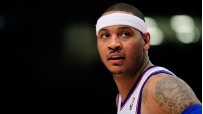 ESPN.com
Updated Jan 7, 2013
Carmelo Anthony approached the Celtics locker room after New York's loss to Boston on Monday and was screaming, MSG Network reported.
Share
Tweet
ESPN.com

Jan 7, 2013

Paul Pierce scored 23 points, and the Boston Celtics beat the New York Knicks 102-96 on Monday night in a heated first meeting of the season between the Atlantic Division rivals.

Share Tweet

NEW YORK (AP) -- Boston Celtics point guard Rajon Rondo has been suspended one game without pay for making contact with a referee and failure to cooperate with an NBA investigation.

Share Tweet

Andrew Bynum says his knees are better and he still plans on playing this season for the Philadelphia 76ers.

Share Tweet

ESPN.com

Jan 7, 2013

Hawks general manager Danny Ferry has been fined $15,000 by the NBA for inappropriate interaction with game officials following Saturday night's game against Boston.

Share Tweet

David Lee and the Warriors' Resurgence

nytimes.com

Jan 7, 2013

David Lee, the former Knick, is averaging 19.9 points, 10.9 rebounds and 3.7 assists a game for the Golden State Warriors.

Share Tweet

Jrue Holiday Should Be A NBA All-Star This Season

dimemag.com

Jan 7, 2013

Jrue Holiday's All-Star consideration has never been much of one in his first three seasons in the NBA. At 19, he was still figuring out his style while turning the ball over more frequently than he handled it. As his obvious talent has become more appa

Share Tweet

Knicks' Anthony, Rockets' Harden named Players of the Week

nba.com

Jan 7, 2013

The New York Knicks' Carmelo Anthony and the Houston Rockets' James Harden today were named Eastern and Western Conference Players of the Week, respectively, for games played Monday, Dec. 31 through Sunday, Jan. 6.

Share Tweet

Roundup: What You Missed The Weekend Some Bros Snuck Into The Knicks Locker Room

deadspin.com

Jan 7, 2013

A Group Of Bros Infiltrated The Knicks Locker Room, Asked Gregg Popovich About J.R. Smith, And Got Kicked Out After Snapping A Picture Of Half-Naked Carmelo | The conclusions are obvious. If you act like you belong, you do belong. Read » More »

Share Tweet

Celtics Win Physical Battle With Knicks

Jan 7

Paul Pierce scores 23 points as Celtics top Knicks for their third straight win.

Tyson Chandler Lift-Off

Jan 7

J.R. Smith finds Tyson Chandler for monster slam in loss to Celtics.