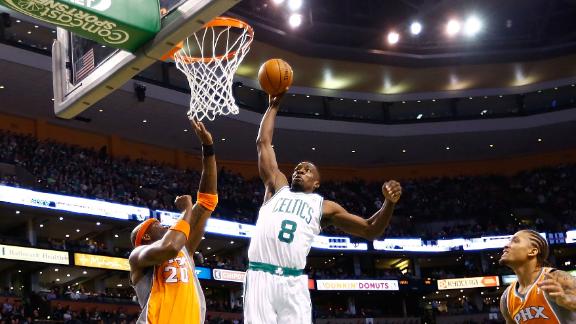 ESPN.com
Updated Jan 9, 2013
Jeff Green scored 14 points, rookie Jared Sullinger added 12 points and a career-best 16 rebounds, and the Boston Celtics recovered from a dreadful third quarter with a big rally to start the fourth and held off the slumping Phoenix Suns 87-79.
Share
Tweet
Raptors cruise to hand Sixers fifth straight defeat

CNNSI.com

Jan 9, 2013

Raptors cruise to hand Sixers fifth straight defeat

Share Tweet

nba.com ESPN.com yahoo.com dimemag.com

Jan 9, 2013

Carmelo Anthony was suspended one game by the NBA on Wednesday for confronting Kevin Garnett after the New York Knicks' loss to Boston on Monday.

Share Tweet

ESPN.com

Jan 9, 2013

Team doctors have instructed Knicks coach Mike Woodson to cut Amar'e Stoudemire's minutes after the player experienced soreness in his surgically repaired left knee in Monday's loss to Boston.

Share Tweet

Section 15: Chicken Caesar Salad

An easy commute and some good food made Barclays Center a winner to a couple of Long Islanders. Now, if the Nets can hire the right coach, the couple says, the team can be the arena's equal.

Share Tweet

The 5 Teammates & Coaches Who Owe Steve Nash The Most

dimemag.com

Jan 9, 2013

Steve Nash became just the fifth player to record 10,000 assists last night, even as his disappointing Lakers team got manhandled by Houston's backcourt of James Harden and Jeremy Lin. But Nash has always been all about the team and making other guys be

Share Tweet

Away from Headlines, Boston's Bradley Makes an Impression

Avery Bradley of the Celtics was a question mark as a rookie, but his defense has made him a major force.

Share Tweet

The Pacers, who will host the Knicks on Thursday night, have kept winning without their leading scorer, Danny Granger, thanks to defense and a favorable schedule.

Share Tweet

yahoo.com

Jan 9, 2013

When the Los Angeles Lakers decided to fire Mike Brown, the name at the top of most fans' coaching wish lists was Phil Jackson. This makes sense, as Jackson led the Lakers to five NBA championships between 1999 and 2011. When the Brooklyn Nets decided t…

Share Tweet

Report: The Knicks Are Interested In Signing Kenyon Martin

dimemag.com

Jan 9, 2013

The summer's running joke was that New York was turning into the old timers' playground. Jason Kidd. Kurt Thomas. Pablo Prigioni. When they brought Rasheed Wallace out of retirement, the Internet nearly exploded. But now they're 23-11, Carmelo Antho

Share Tweet

Celtics Top Struggling Suns

Jan 9

Jeff Green had 14 points and a highlight reel dunk in the Celtics' 87-79 win.

Carmelo Anthony Suspended One Game

Jan 9

Carmelo Anthony has been suspended one game for confronting Kevin Garnett in the arena tunnel.

Update on the Knicks

Jan 9

Ian Begley and Jared Zwerling on the return of Iman Shumpert, Carmelo's feud with KG, the backcourt play of Kidd and Smith and a look at their upcoming games against the Pacers and Bulls.

Raptors Hand 76ers Fifth Straight Loss

Jan 9

76ers fall to Raptors, 90-72.