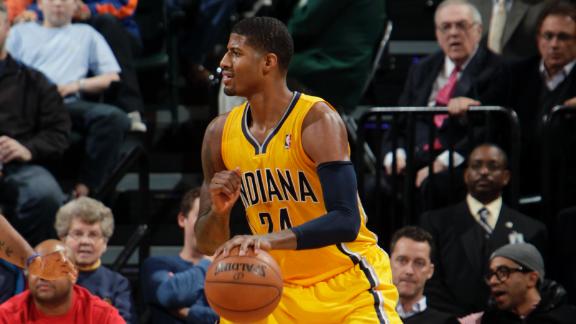 ESPN.com
Updated Jan 10, 2013
Paul George scored seven points in a 13-0 fourth-quarter run and finished with 24, leading the Indiana Pacers past the short-handed New York Knicks 81-76 on Thursday night.
Share
Tweet
nydailynews.com

Jan 10, 2013

This just in: James (Guitar Jimmy) Dolan is a lot fonder of Carmelo Anthony than he is of the suits running Comcast and Time Warner. The gap is even wider now. Dolan first professed true love for Melo when he ordered Donnie Walsh to trade half the team …

Share Tweet

nytimes.com nba.com dimemag.com

Jan 10, 2013

The 28-year-old rookie Chris Copeland replaced Carmelo Anthony in the Knicks' starting lineup for Thursday's game against the Pacers while Anthony served a one-game suspension.

Share Tweet

Brooklyn Nets backup center Andray Blatche says he's "not worried at all" about his involvement in an alleged sexual assault that occurred in his Philadelphia hotel suite early Tuesday morning.

Share Tweet

When Carmelo Anthony met Kevin Garnett outside the Celtics locker room a couple nights ago, nobody expected any actual violence to occur (despite Carmelo's preference for Apple Jacks). But when Kendrick Perkins and Zach Randolph got into an on-court bac

Share Tweet

Dime Q&A: Joe Budden Dishes On Upcoming Album & Why He Doesn't Want New York To Play Boston

From an ugly fallout with his former label Def Jam, to combating erroneous claims surrounding his relationships, Joe Budden has been on the opposing end of a disastrous battle against the world. He was virtually playing one on five. His candor served as…

Share Tweet

Rivers says KG didn't talk about Melo's wife

ESPN.com

Jan 10, 2013

Boston Celtics coach Doc Rivers said Thursday morning that forward Kevin Garnett did not make the remarks he has been rumored to have made about Carmelo Anthony's wife during Monday's game.

Share Tweet

CNNSI.com

Jan 10, 2013

The original model for the D-League is yesterday's news. Teams are embracing the league more than ever before as a resource to develop precious young talent, says Ian Thomsen.

Share Tweet

Point Guard Generation

Jan 10

Part 2: Sixers star Jrue Holiday on the league's vast collection of top-notch point guards.

Dunk Of The Night

Jan 10

J.R. Smith throws down a huge dunk against the Pacers.

NBA Kia Countdown: Year Of The Vets?

Jan 10

Magic Johnson, Jalen Rose and Michael Wilbon discuss how veteran players are playing at a high level in the NBA this season.

Pacers Prevail As Knicks Struggle In 4th Quarter

Jan 10

Paul George scored 24 points and grabbed 11 rebounds in the Pacers' win over the Knicks.