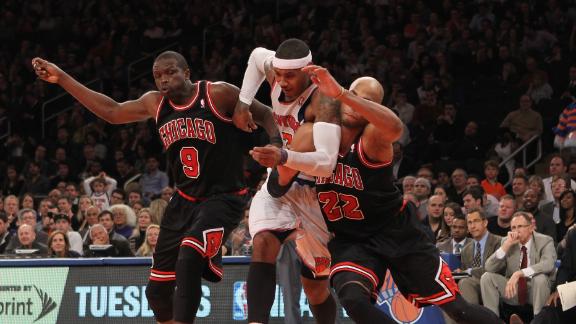 ESPN.com
Updated Jan 11, 2013
Luol Deng scored a season-high 33 points in the Chicago Bulls' third victory over New York this season, a 108-101 win Friday that sent the Knicks to their season-high third straight loss.
Share
Tweet
Brooks key off bench as Nets win 5th straight

Joe Johnson scored 19 points and MarShon Brooks added 17 points off the bench Friday night, leading the Brooklyn Nets to its fifth straight victory, 99-79 over the struggling Phoenix Suns.

Share Tweet

nytimes.com ESPN.com nba.com CNNSI.com

Jan 11, 2013

The Knicks found themselves short-handed again Friday night with Marcus Camby out two to four weeks with a foot injury.

Share Tweet

Carmelo Anthony Lobs the Rock to Tyson Chandler

Carmelo Anthony lobs the rock to Tyson Chandler as he drives through the lane and throws down the dunk in tonight's matchup between the Chicago Bulls and New York Knicks.

Share Tweet

Anderson helps Raptors cruise past Bobcats

Alan Anderson scored 16 points against his former team, Jose Calderon had 15 and the Toronto Raptors won for the 10th time in 13 games Friday night, beating the Charlotte Bobcats 99-78.

Share Tweet

James Harden Pump Fakes, Scores and Draws the Foul

James Harden pump fakes to draw the foul and sinks in the basket in tonight's matchup between the Houston Rockets and Boston Celtics.

Share Tweet

nba.com

Jan 11, 2013

NEW YORK (AP) -- Brooklyn Nets forward Gerald Wallace left Friday night's game against Phoenix after landing hard on his right arm and shoulder about midway through the first quarter.

Share Tweet

A MarShon Brooks Rack Attack

MarShon Brooks turns the corner along the baseline and extends for the one-handed slam in tonight's matchup between the Brooklyn Nets and Phoenix Suns.

Share Tweet

Jared Sullinger Attacks the Glass with One Hand.

The Boston Celtics rookie Jared Sullinger attacks the glass as he hustles to grab the rebound with one hand and cashes in a hook shot tonight against the Houston Rockets.

Share Tweet

Terrence Ross Explodes For a Sledge Hammer Dunk

After making the steal, Terrence Ross gets the ball back from DeMar DeRozan on the fast break and throws down an explosive sledge hammer dunk in tonight's matchup between the Toronto Raptors and Charlotte Bobcats.

Share Tweet

Brooklyn Nets small forward Gerald Wallace headed into the locker room after appearing to injure his right arm/shoulder in the first quarter of Friday night's game against the Phoenix Suns.

Share Tweet

Incredible Defense Has Turned Indiana's Season Around

The Indiana Pacers only scored 81 points last night, but they still managed to beat the Carmelo Anthony-less Knicks by five. The Pacers are ugly to watch, and their highest-paid player is a seven-footer that's shooting less than 40 percent from the floo

Share Tweet

Free Dime Giveaway: Elusion Clothing's "KnicksTape" T-Shirts

The Knicks might be slowly coming back to earth — they're just 4-6 in their last 10 after dropping an ugly game against Indiana last night. But their fans are as passionate as ever, continuously pumping Carmelo Anthony as the MVP and J.R. Smith as the

Share Tweet

J.R. Smith Has Become Self-Aware

deadspin.com

Jan 11, 2013

It's not clear who actually took this photo, but J.R. Smith just posted it to his Instagram account along with the hashtag, #ThatWhatTheHellYouDoingLook. He is of course referring to the look of consternation that head coach Mike Woodson is throwing Smi…

Share Tweet

5-on-5: Best in ESPN doubleheader

The most valuable, underrated, overrated among Bulls, Knicks, Lakers, Thunder

Share Tweet

Allegedly, Rajon Rondo wants to see Rudy Gay in Boston Celtics green, and really, why wouldn't he? It looks like Rudy is one of the most blatantly-available difference makers on the trade market. If Gay is going be headed somewhere, it's only natural

Share Tweet

Nets Rally Past Suns

Jan 11

Gerald Wallace exits in first quarter with injury as Nets top Suns for their fifth straight win.

Pierce, Sullinger Quiet Rockets

Jan 11

Paul Pierce led the Celtics with 23 points and Jared Sullinger contributed 14 from the bench to lift the Celtics.

Working Bodies

Jan 11

Blows to the head have become big news in football, but that's not to say they don't happen in the NBA, too.

Bulls Survive Knicks' Late Rally

Jan 11

Carmelo Anthony held to 10 points in the first half as the Knicks fall to the Bulls for their third straight loss.