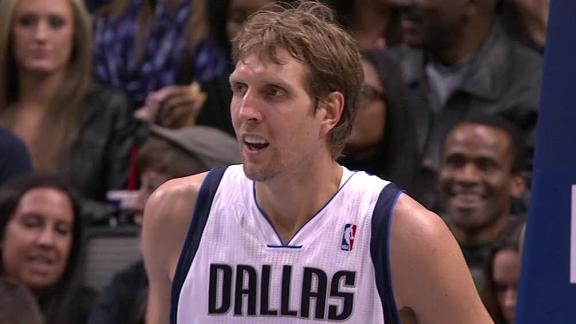 ESPN.com

Jan 16, 2013

Luol Deng hit a tiebreaking jump shot with 3 seconds left in overtime and the Chicago Bulls beat Toronto 107-105 in overtime on Wednesday night, their eighth victory in nine meetings against the Raptors.

Share Tweet

Hornets topple Celtics in Rivers' father-son clash

Share Tweet

Jeff Teague had a career-high 28 points and 11 assists, Zaza Pachulia finished two assists shy of a triple-double and the short-handed Atlanta Hawks beat Brooklyn 109-95 on Wednesday night to stop the Nets' seven-game winning streak.

Share Tweet

ESPN.com

Jan 16, 2013

Brooklyn Nets small forward Gerald Wallace returned Wednesday night against the Atlanta Hawks, but did not start.

Share Tweet

CNNSI.com dimemag.com nba.com ESPN.com

Jan 16, 2013

Melo grateful for Knicks owner eavesdropping on him

Share Tweet

nydailynews.com

Jan 16, 2013

The Carmelo Anthony Transformation Tour began here of all places, just a few days after he was vilified for ushering Jeremy Lin out of New York and just before the world's greatest sixth man would help the United States win Olympic gold.

Share Tweet

Section 15: Friends With No Rooting Interest

nytimes.com

Jan 16, 2013

A couple of cross-country friends headed to Section 15.

Share Tweet

Xavier Henry's quarter-ending heave: A few feet low, a few feet short, a few seconds early (VIDEO)

yahoo.com

Jan 16, 2013

New Orleans Hornets coach Monty Williams dusted off sparingly used wing Xavier Henry against the Philadelphia 76ers on Tuesday, and the third-year Kansas product rewarded him, scoring five points in four minutes as part of a 19-7 run late in the third q…

Share Tweet

Ty Lawson Beats The Rookie Of The Year Front-Runner; Hoosiers Lose

dimemag.com

Jan 16, 2013

Even after Chris Paul's right kneecap conspired to scratch Tuesday's most intriguing point-guard matchup from the schedule - CP3 and the Clippers facing Jeremy Lin and the Rockets - the NBA still delivered a gem by giving us Ty Lawson versus Damia

Share Tweet

Basketball Decisions: Should the Raptors Keep Kyle Lowry or Jose Calderon?

grantland.com

Jan 16, 2013

The Toronto Raptors gave up a likely lottery pick, now property of the Oklahoma City Thunder, to make Kyle Lowry their starting point guard of the pre...

Share Tweet

Bulls Edge Raptors In Overtime

Jan 16

Carlos Boozer scored 36 points and Luol Deng hit a tiebreaking jumper with 3 seconds left to lift the Bulls.

Rivers, Hornets Snap Celtics' Six-Game Win Streak

Jan 16

Hornets top Celtics 90-78 for their sixth win in seven games.

TrueHoop TV: Rookie Watch

Jan 16

David Thorpe on who is leading the race for NBA's Rookie of the Year.

Hawks Fly By Nets, 109-95

Jan 16

Hawks snap Nets' seven-game winning streak.