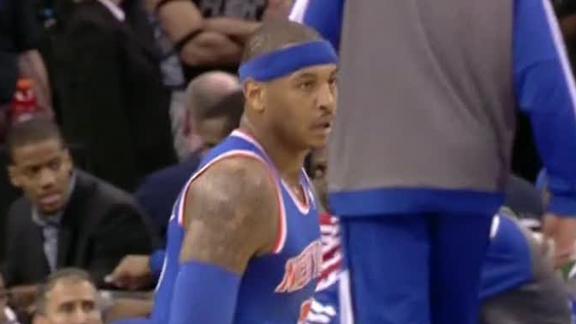 ESPN.com
nytimes.com
Updated Jan 17, 2013
Carmelo Anthony returned to his Olympic gold medal past and scored 26 points Thursday to lead the New York Knicks to a 102-87 victory over the Detroit Pistons.
Share
Tweet
Kevin Durant wanted to play for the Toronto Raptors as a kid

Every team in the league would love to have Oklahoma City Thunder star Kevin Durant on their roster. But as a young NBA fan growing up in Washington, D.C., which roster did Durant himself wish he could join? Surprisingly, the answer wasn't his hometown …

Share Tweet

Brian Scalabrine lied about concussion symptoms to Celtics doctors to get cleared for the playoffs

Pau Gasol will return to the Los Angeles Lakers' lineup for the team's nationally televised Thursday game against the defending NBA champion Miami Heat after missing five games with a concussion brought on by an inadvertent elbow from Denver Nuggets cen…

Share Tweet

dimemag.com nytimes.com

Jan 17, 2013

For the Knicks there will be no "panic on the streets of London" today, as The Smiths sang. Second-year guard and perimeter defending savant Iman Shumpert could start in New York's game against Detroit in the English capital after his recovery from

Share Tweet

The New York Knicks and Ball Don't Lie present a helpful guide to understanding England

On Thursday afternoon, stateside time, the Detroit Pistons and New York Knicks will play a regulation game in London's O2 Arena. In anticipation of the event, Knicks website maestro Jonah Ballow put together an interview collection featuring various Kni

Share Tweet

CNNSI.com

Jan 17, 2013

Kevin Durant and Russell Westbrook dominate the headlines in Oklahoma City, but Ian Thomsen says that the emergence of Serge Ibaka has really kept the Thunder among the elite.

Share Tweet

After a furious second-half Toronto Raptors comeback erased a 19-point Chicago Bulls lead and turned a laugher into a fun Wednesday night table-setter, the two teams sat tied at 105 with 8.7 seconds left in overtime. You might have expected the Bulls to…

Share Tweet

ESPN.com

Jan 17, 2013

Greivis Vasquez scored 15 points with 11 rebounds and Austin Rivers won his first NBA game against his father on Wednesday night as the New Orleans Hornets beat coach Doc Rivers and the Boston Celtics 90-78.

Share Tweet

dimemag.com

Jan 17, 2013

Two things were clear in Oakland last night. Clearly, Golden State has a ceiling, and the Heat don't. And clearly, LeBron James is really freakin' good, like "the youngest player to ever score 20,000 points" good. In Miami's 17-point win, James

Share Tweet

Carmelo Anthony On Knicks' Win

Jan 17

Carmelo Anthony talks after the Knicks' win over the Pistons.

Knicks Shut Down Pistons In London

Jan 17

Carmelo Anthony leads the Knicks with 26 points.