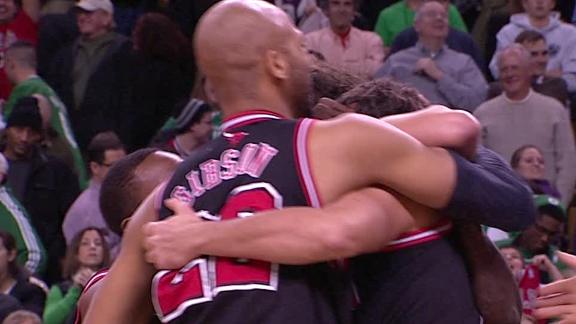 Marco Belinelli made a game-winning jumper with 3.1 seconds left, Jimmy Butler scored six points in overtime and the Chicago Bulls extended their Friday night road show by beating the Boston Celtics 100-99.
Share
Tweet
76ers erase 19-point deficit, top Raptors in OT

Jrue Holiday had a career-high tying 33 points and 14 assists, including all 12 of Philadelphia's points in overtime, and the 76ers overcame a 19-point second-half deficit to defeat the Toronto Raptors 108-101 on Friday night.

Share Tweet

Deron Williams scored 24 points, making four free throws in the final 43.4 seconds, and the Brooklyn Nets beat the Atlanta Hawks 94-89 on Friday night to earn a split of a home-and-home series.

Share Tweet

Boston Celtics guard Avery Bradley will sit out Friday's visit from the Chicago Bulls due to a rib injury suffered in Wednesday's loss to the New Orleans Hornets.

Share Tweet

NBA admits botched call in Raptors' loss to Bulls (VIDEO)

Basketball fans don't particularly like the NBA's officiating, at various times calling it "rigged," "a conspiracy," or "really bad and it makes me want to vomit." For the most part, the league tries to ignore these complai…

Share Tweet

The Celtics' All-Stars plan on neither broing down nor throwing down during All-Star Weekend

As Eric Freeman related Thursday night, the starting fives for the Eastern and Western Conference teams in next month's 2013 NBA All-Star Game have been announced, and basketball fans around the world decided that they wanted to see a starting Eastern b…

Share Tweet

3 great things about a Knicks/Pistons-in-London recap written by an Englishman

The New York Knicks scored a 102-87 win over the Detroit Pistons on Thursday afternoon at the O2 Arena in London as part of the NBA's ongoing efforts to expand global interest in the stateside product. The game itself wasn't particularly thrilling, and …

Share Tweet

Chicago Bulls forward Luol Deng is a game-time decision for Friday's game against the Boston Celtics because of a right hamstring injury.

Share Tweet

Clips stay on top; Nuggets continue their ascent

Three teams out West have set themselves apart. But don't forget about Andre Iguodala and the Nuggets. Close to unbeatable at home, Denver is one of this week's biggest risers.

Share Tweet

nytimes.com dimemag.com

Jan 18, 2013

Iman Shumpert's return from a knee injury Thursday gave the Knicks a booster shot of youth and defense.

Share Tweet

Celtics Admit They Are Monitoring Greg Oden

dimemag.com

Jan 18, 2013

No one, perhaps not even Greg Oden, is sure what the big man will have left in the tank once he's healthy enough to play in the NBA again. We have questions marks on his foot speed, his love of the game, and oh yeah, all that other off-court stuff, too.

Share Tweet

All That Glitters: A closing 9-0 Miami run sealed a 99-90 win over L…

A closing 9-0 Miami run sealed a 99-90 win over L.A. The Lakers fought hard, but LeBron James may have just ignited another championship run for the Heat, writes Lee Jenkins.

Share Tweet

Lee Jenkins: Once a Finals preview, Heat-Lakers now just a LeBron showcase

LOS ANGELES -- Outside of fame, riches and backlit banners, there is no motivator in sports quite like the threat of everlasting ignominy. It is the specter that hangs over each of the so-called super teams, the realization that if they fail, reputation…

Share Tweet

Boston Grasps Defeat From The Jaws Of Victory; The Lakers Figure Out How To Play Together

dimemag.com

Jan 18, 2013

Each time we checked in with the Hawks vs. Celtics it was like watching a different game. In the first half the Celtics were on cruise control and it almost looked as if Tommy Heinsohn could have stepped in because of Boston's 27-point lead. Atlanta was

Share Tweet

76ers Come Back To Top Raptors In OT

Jan 18

76ers erase 19-point deficit to beat Raptors in OT.

Nets Split Home-And-Home With Hawks

Jan 18

Deron Williams scores 24 points in Nets' 94-89 win over Hawks.

Belinelli, Bulls Sink Celtics In OT

Jan 18

Marco Belinelli's off-balance jumper in OT lifts Bulls past Celtics and to their third straight win.

Good Teammate, Bad Opponent

Jan 18

Michael Wilbon and Bill Simmons draft their good teammate, bad opponent teams.