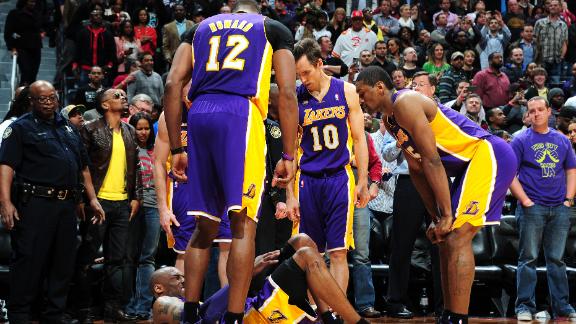 ESPN.com
Updated Mar 18, 2013
Knicks star forward Carmelo Anthony did not play Monday night against the Jazz.
Share
Tweet
nydailynews.com nba.com nytimes.com

Mar 18, 2013

The only thing you knew for certain about Carmelo Anthony and his ongoing knee problem is that he did not play Monday night when the Knicks wrapped up their five-game trip from hell with an 90-83 win over the Utah Jazz. We really still don't know what c…

Share Tweet

LeBron James made the go-ahead jumper with 10.5 seconds left to lead Miami to its 23rd consecutive victory, 105-103 over the Boston Celtics on Monday night.

Share Tweet

ESPN.com nytimes.com

Mar 18, 2013

Deron Williams scored 31 points in 28 minutes, and the Brooklyn Nets routed the hapless Detroit Pistons 119-82 Monday night in the opener of their eight-game road trip.

Share Tweet

yahoo.com deadspin.com

Mar 18, 2013

Hey, do you think Jason Terry can jump as high as LeBron James? No, me neither. As we learned during the second quarter of Monday night's marquee matchup between the streaking Miami Heat and the Boston Celtics, though, the man they call "JET" …

Share Tweet

Hawes, Holiday carry Sixers past Trail Blazers

ESPN.com

Mar 18, 2013

Spencer Hawes had 18 points and 13 rebounds, and Jrue Holiday scored 27 points to lead the Philadelphia 76ers to a 101-100 victory over the Portland Trail Blazers on Monday night.

Share Tweet

Sixers center Andrew Bynum will have season-ending arthroscopic surgery on both knees, the team announced Tuesday.

Share Tweet

Kevin Garnett is out of the lineup for the Boston Celtics as they try to stop the Miami Heat's 22-game winning streak.

Share Tweet

Best N.B.A. Games of the Week

nytimes.com

Mar 18, 2013

Notable N.B.A. games this week include Miami at Boston, Denver at Oklahoma City, and Utah at Houston.

Share Tweet

P.J. Carlesimo reflects on his altercation with Latrell Sprewell, 15 years later

yahoo.com

Mar 18, 2013

As an unwilling victim, Brooklyn Nets interim head coach P.J. Carlesimo doesn't want to be known mostly for his Dec. 1997 incident with Latrell Sprewell, but P.J. has always been forthcoming about Spre's attack on the then-Golden State Warriors coach,

Share Tweet

Chris Paul Debuts The Jordan CP3.VI AE

dimemag.com

Mar 18, 2013

Yesterday, Chris Paul sliced up the Knicks for 20 points and eight dimes in a 13-point Clippers win. He also debuted the Jordan CP3.VI AE. These are the "artisan edition" of his signature sneakers, the ones he'll be rocking during L.A.'s (hopefull

Share Tweet

deadspin.com dimemag.com

Mar 18, 2013

Without Carmelo Anthony, Amar'e Stoudemire, and especially Tyson Chandler, you knew this one was going to be ugly for the Knicks down low. Lob City didn't disappoint, with DeAndre Jordan and Blake Griffin going to town on a frontcourt consisting of Kurt…

Share Tweet

March Madness Is Finally Here; LeBron James & Miami's Win Streak Reaches 22

dimemag.com

Mar 18, 2013

A few interesting subplots went down in the NBA last night, headlined by Miami invading Jurassic Park and destroying the Raptors. But it all still took a backseat to March Madness … While many predicted the top four No. 1 seeds correctly (Louisville, Ka

Share Tweet

We Went There: 20 Observations From the Heat's 22nd Consecutive Win

grantland.com

Mar 18, 2013

After a brief flicker of competitiveness, the Heat buried the Raptors in Toronto yesterday under a pile of smartly created open 3s — mostly by R...

Share Tweet

76ers Sneak Past Blazers 101-100

Mar 18

Jrue Holiday leads 76ers to win over Blazers.

Heat Rally To Keep Streak Alive

Mar 18

Heat erase a 17-point deficit to defeat the Celtics 105-103 and extend their winning streak to 23 games, the second longest in NBA history.

NBA Star Players Suffering Injuries

Mar 18

Chris Mullin on the injuries to Kobe Bryant and Carmelo Anthony.

Courtney Lee Sends Chris Bosh To The Floor

Mar 18

Courtney Lee crosses up Chris Bosh and sinks the jumper.