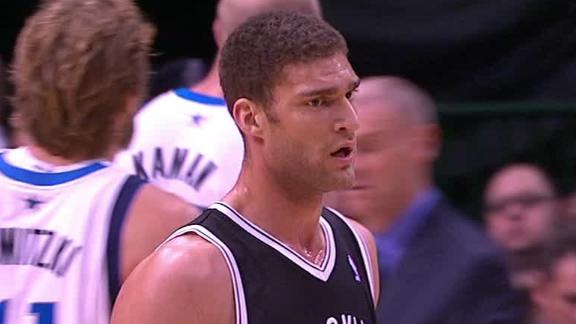 ESPN.com

Mar 20, 2013

Anthony Davis outreached Kevin Garnett and Jeff Green for a last-second tip-in, and the New Orleans Hornets snapped a four-game skid with an 87-86 victory over the Boston Celtics on Wednesday night.

Share Tweet

nytimes.com ESPN.com nba.com CNNSI.com

Mar 20, 2013

No matter how Knicks fans feel about their team's roster being affected by a rash of injuries, Coach Mike Woodson made it clear before Wednesday's game against the Orlando Magic that he and General Manager Glen Grunwald are not looking to sign free ag

Share Tweet

Carmelo returns, nets 21 to lift Knicks past Magic

CNNSI.com

Mar 20, 2013

Carmelo returns, nets 21 to lift Knicks past Magic

Share Tweet

CLEVELAND (AP) - LeBron James wasn't just satisfied with dunking over Jason Terry. On Wednesday, he threw it in the Boston guard's face again.

Share Tweet

2009 NBA Draft Do-Over

dimemag.com

Mar 20, 2013

"What ifs" in sports can run deeper than still waters. What can be a simple question or proposition on the surface, may also result in major changes to a player or players' careers and, in some instances, even swing titles. Anyone who drinks water a

Share Tweet

dimemag.com

Mar 20, 2013

The playoffs are getting close, and that means playoff seedings, which are as jumbled as ever this year after more than two thirds of the regular season has elapsed. The East, especially, has bunched up just below the winning streak that's catapulted th

Share Tweet

Ian Thomsen: In season full of injuries, Parker's may prove most crucial

CNNSI.com

Mar 20, 2013

We've seen several injuries over the last week, with Carmelo Anthony, Tyson Chandler and Kobe Bryant going down. Which injury situation, including the injuries to Tony Parker, Derrick Rose and the recovering Pau Gasol, will affect the postseason the mos…

Share Tweet

The SportVU Follow-up: Answering the Most Common Questions and More Ghost Raptors

grantland.com

Mar 20, 2013

I have a ton of cool information from the Raptors' analytics program that didn't fit in yesterday's original big-picture piece, so I wanted to share a...

Share Tweet

Lopez dominates with season high 38 points

Mar 20

Brook Lopez grabs the rebound and dunks it as the Nets beat the Mavericks 113-96

KG's Importance To The Celtics

Mar 20

Tim Legler weighs in on what Kevin Garnett adds to the Celtics and Boston's chances in the playoffs.

Knicks Win Carmelo Anthony's Return

Mar 20

Carmelo Anthony scores 21 points to lead the Knicks past the Magic 106-94 and to their second straight win.

Clippers Crush 76ers 101-72

Mar 20

Chris Paul leads Clippers to win over 76ers.