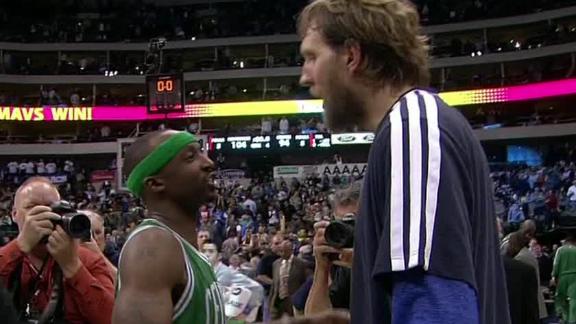 Dirk Nowitzki scored 22 points, Shawn Marion had a double-double in his return from a calf injury and the Mavericks spoiled Jason Terry's return to Dallas with a 104-94 victory over the Boston Celtics on Friday night.
Share
Tweet
ESPN.com

Mar 22, 2013

Carmelo Anthony scored 37 points, Kenyon Martin had 19 points and 11 rebounds, and the New York Knicks clinched a playoff berth with a 99-94 victory over the Toronto Raptors on Friday night.

Share Tweet

Ray Williams, the former New York Knicks guard who averaged 15.5 points and 5.8 assists in 10 seasons in the NBA, died Friday. He was 58.

Share Tweet

Jimmy Fallon is afraid of the Nets' mascot, the BrooklyKnight

When the Nets moved to Brooklyn for the beginning of this season, they resolved to overhaul their image and reputation to fit their hip and cosmopolitan surroundings. For an NBA team, that means creating a new mascot to communicate the franchise's ideal…

Share Tweet

Terry: Celts-Heat in playoffs is 'fireworks'

ESPN.com

Mar 22, 2013

Guard Jason Terry predicts his Boston Celtics and the Miami Heat will meet each other in the playoffs and eagerly awaits the "fireworks" that will ensue.

Share Tweet

deadspin.com

Mar 22, 2013

Ray Williams, who went from being a first-round NBA pick and team captain, to bankruptcy, homelessness, and eventually redemption, has passed away in a New York hospital, according to the Knicks.Read more...

Share Tweet

The Knicks call 40-year-old Kurt Thomas 'Mid Life'

We interrupt your March Madness viewing and Miami Heat Streak Watching for a special NBA nickname update, which comes to us from a story about New York Knicks guard Jason Kidd turning 40 years old on Saturday, courtesy of Frank Isola at the New York Dai…

Share Tweet

Philadelphia blows a heartbreaker in the final seconds, as the team CEO rips the team on Twitter (Video)

The Philadelphia 76ers are in the midst of a freefall. Thought before the season to be a dark horse contender for a higher echelon playoff spot with Andrew Bynum on board, and thought to at least be a playoff participant after a 12-9 start to the season…

Share Tweet

Former NY Knicks star Patrick Ewing a likable personality during MSG interview with Al Trautwig

nydailynews.com

Mar 22, 2013

Has the Madison Square Gulag Network studio become a waiting room for the eligible elderly who can help the Knickerbockers down the stretch?

Share Tweet

Knicks Win, Clinch Playoff Spot

Mar 22

Carmelo Anthony leads Knicks with 37 points.

Bomani Jones: NBA Snob

Mar 22

Bomani Jones on why zone defense is for cowards, what people really mean when they say they prefer college basketball and why Doug Collins is not a good fit any more in Philly.

Mavs Sink Celtics 104-94

Mar 22

Celtics fall in Jason Terry's return to Dallas.