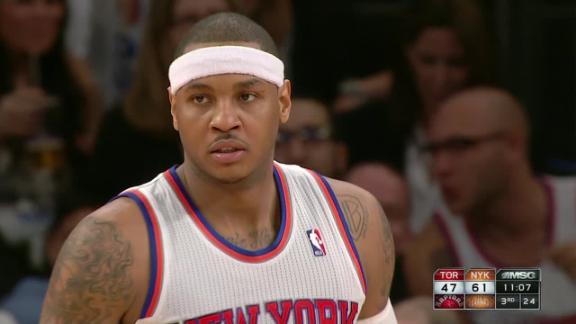 ESPN.com
Updated Mar 23, 2013
Carmelo Anthony scored 28 points, Kenyon Martin had another big game against Toronto, and the New York Knicks finished off a home-and-home sweep of the Raptors with a 110-84 victory Saturday night.
Upvote
Share
Tweet
nba.com

Mar 23, 2013

Kevin Garnett and Courtney Lee missed the Celtics' game Saturday night against Memphis with left ankle injuries, while Grizzlies center Marc Gasol sat out with an abdominal tear.

Upvote Share Tweet

ESPN.com

Mar 23, 2013

Boston Celtics forward Kevin Garnett and guard Courtney Lee will both miss Saturday night's game against the Memphis Grizzlies due to sprained left ankles, the team announced.

Upvote Share Tweet

CNNSI.com

Mar 23, 2013

Ray Williams, the former New York Knicks guard who averaged 15.5 points and 5.8 assists in 10 seasons in the NBA, died Friday. He was 58.

Upvote Share Tweet

Georgetown Goes Down In Major Upset; Tony Parker Is Back

dimemag.com

Mar 23, 2013

New Mexico, move over. You have company. As bad as our brackets were screwed by Harvard on Thursday (and two people in the Dime clan had the Lobos going to at least the Final Four), the Hoyas might've done even more damage … Florida Gulf Coast pinned

Upvote Share Tweet

Knicks Top Raptors Again

Mar 23

Carmelo Anthony scored 28 points to lift the Knicks past the Raptors for the second straight night.

CP3's Strong Fourth Quarter Lifts Clippers

Mar 23

Chris Paul tallied 29 points and 11 assists to lead the Clippers past the Nets 101-95.