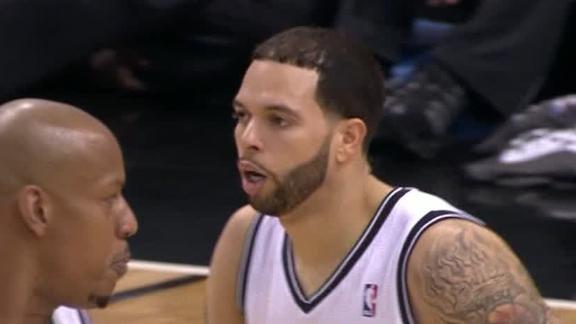 Updated Mar 24

Share Tweet

Rudy Gay on Saturday missed his third game this month with back problems, and Toronto Raptors coach Dwane Casey said he assumes the organization will discuss shutting the team's leading scorer down.

Updated Mar 24

Share Tweet

Grizzlies center Marc Gasol sat out Saturday's 110-106 win over the Celtics with an abdominal tear and will be out indefinitely.

Updated Mar 24

Share Tweet

They must have installed a time machine in Kenyon Martin's locker, because the 35-year-old forward rolled the clock back against the Raptors at Madison Square Garden on Saturday night.

Source:

nydailynews.com

Paul's 17-point fourth propels Clippers by Nets

Updated Mar 24

Share Tweet

Chris Paul scored 17 of his 29 points in the fourth quarter after banging his left knee early in the game and the Los Angeles Clippers held off the Brooklyn Nets 101-95 on Saturday night in a matchup of playoff-bound teams.

Updated Mar 24

Share Tweet

The Memphis Grizzlies needed almost all of a 21-point fourth-quarter lead to survive a late push by Boston's reserves.

A Birthday Kidd Won't Forget

Updated Mar 24

Share Tweet

Jason Kidd celebrated his 40th birthday at Madison Square Garden with thousands of his closest friends, a song by a teammate, and a victory.

Source:

nytimes.com

Nets Edge Suns

Mar 24

Deron Williams tallied 20 points and 11 assists to lead the Nets past the Suns 102-100.