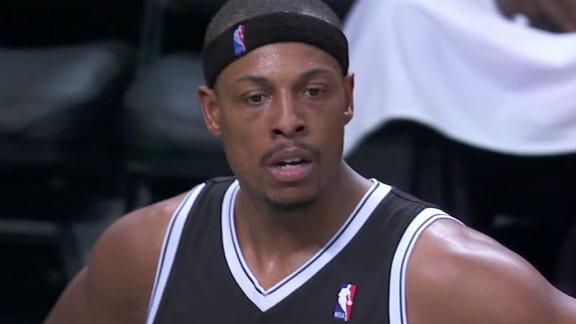 Nets hand Heat first 2-game skid since January
Updated Nov 1
Share
Tweet
Paul Pierce and Joe Johnson scored 19 points each, and the Brooklyn Nets ended years of futility against the Miami Heat and sent the NBA champions to their first losing streak in 10 months with a 101-100 victory Friday night.
Source:
ESPN.com
76ers improve to 2-0 with win over Wizards

Updated Nov 1

Share Tweet

76ers improve to 2-0 with 109-102 win over Wizards

Source:

ESPN.com

Celtics feature World Series trophy to home opener

Updated Nov 1

Share Tweet

Despite trading away all their top stars - and their coach - in the offseason, the Boston Celtics still know how to please a crowd.

Source:

nba.com

Updated Nov 1

Share Tweet

Boston Celtics legend Bill Russell is widely known as one of the greatest players in NBA history, an 11-time champion and a revolutionary defender and rebounder. However, Russell's legacy is about much more than his on-court accomplishments. He has been…

Three Foppish Dandies attended the Chicago Bulls/New York Knicks game on Halloween night (Photo)

Updated Nov 1

Share Tweet

Thursday was Halloween, which was the reason (we think) for the costumes. That said, Halloween parties will abound on both Friday and Saturday night. You've been warned. - - - - - - - Kelly Dwyer is an editor for Ball Don't Lie on Yahoo Sports. Have a t…

Source:

yahoo.com

Updated Nov 1

Share Tweet

They beat the Heat! But the Sixers are still likely to be pretty awful this season. Here's a guide to rooting for a team that's tanking. [Philly mag]Read more...

Source:

deadspin.com

Nets rookie asks strangers for autograph

Updated Nov 1

Share Tweet

Brooklyn Nets rookie forward Mason Plumlee regularly gets approached by strangers asking for autographs. He went to Union Square to see how strangers react when he asks for theirs.

Source:

CNNSI.com

Updated Nov 1

Share Tweet

Basketball is back and all is right with the world once again. It has been an intriguing first week of basketball to say the least. You have the Miami Heat beating the Chicago Bulls and then losing to the Philadelphia 76ers. The Los Angeles Lakers actua…

Source:

dimemag.com

Updated Nov 1

Share Tweet

The conversation started in some circles as soon as he got to New York, when he signed a three-year, $64.2 million extension that came equipped with an early termination option before its final season. Sure, Carmelo Anthony really wanted to be a member …

Chris Paul out-duels Stephen Curry, becomes first 40-15-5 player in 40 years as Clippers beat Warriors (Videos)

Updated Nov 1

Share Tweet

Those of us who stuck around through the Chicago Bulls-New York Knicks rock fight (punctuated, as it was, by one sublime moment of shot-making) that opened TNT's Thursday doubleheader received a rich, rich reward once the action shifted to Staples Cente…

Source:

yahoo.com

Behind-The-Scenes Of Raptor Amir Johnson's "Thriller" Zombie Dance

Updated Nov 1

Share Tweet

Yesterday was Halloween — if you failed to notice all the trick-or-treaters showing up at your home last night, or all the eggs missing from your local bodega — so it makes sense we'd show you some NBA players in their costumes. This behind-the-scenes f…

Source:

dimemag.com

Updated Nov 1

Share Tweet

The early game between the Bulls and the Knicks was like ice fishing compared to the late game's hot, sun-drenched California shooting. While the Knicks shot 36 percent, the Bulls weren't much better at 40. Despite the frigid stroke by both teams, it ca…

Sources:

dimemag.com CNNSI.com

Carmelo Anthony talks about retiring a Knick, but should instead stay focused on this one, long season ahead

Updated Nov 1

Share Tweet

One superstar made his last shot of the night, one missed and the outcome left the Knicks disappointed, yet thinking this could be the start of something good. We'll see because there are 80 games left, an eternity by any measure.

Source:

nydailynews.com

Horford, Hawks Top Raptors

Nov 1

Al Horford's double-double of 22 points and 16 boards led the Hawks to a 102-95 win over the Raptors.

Liftoff for New Net

Nov 1

Andrei Kirilenko dunks over Ray Allen as the Nets extend their lead in the 4th quarter.

Joe Johnson Leading Nets

Nov 1

Joe Johnson hits a wide-open three as the Nets extend their 4th-quarter advantage.

Bucks Rally Past Celtics

Nov 1

The Bucks erased a 22-point deficit and defeated the Celtics 105-98.