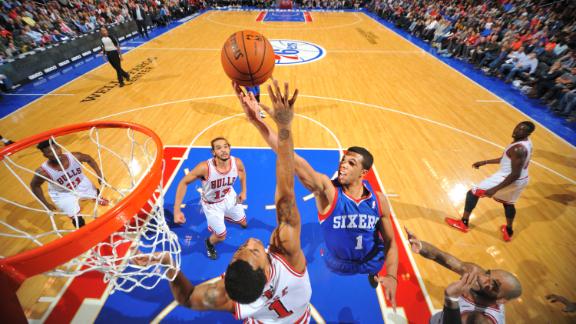 Sixers stun Bulls to continue surprising start
ESPN.com
Updated Nov 2, 2013
Rookie Michael Carter-Williams had 26 points and 10 assists and Spencer Hawes added 18 points and 11 rebounds as the Philadelphia 76ers continued their stunning start to the season, beating the Chicago Bulls 107-104 on Saturday night.
Share
Tweet
Brooklyn Nets reserve center Andray Blatche was fined $15,000 by the league for making an obscene gesture late in the team's 101-100 victory over the Miami Heat Friday night at Barclays Center, NBA president of basketball operations Rod Thorn announced …

Share Tweet

ESPN.com

Nov 2, 2013

New York Knicks forward Amar'e Stoudemire will sit out of Sunday's game against the Minnesota Timberwolves, coach Mike Woodson said.

Share Tweet

ESPN.com

Nov 2, 2013

Chicago Bulls star Derrick Rose has been dealing with neck soreness over the past week but says he is feeling fine heading into Saturday night's game against the Philadelphia 76ers.

Share Tweet

Somehow, Gerald Wallace Is The Voice Of The Celtics

deadspin.com

Nov 2, 2013

The Boston Celtics blew a 22-point lead to the Milwaukee Bucks Friday night, falling to 0-2. No one on the team seemed more pissed off about the loss than Gerald Wallace.Read more...

Share Tweet

Garnett, Pierce use experience of battles past to lead Nets over Heat

CNNSI.com

Nov 2, 2013

The Nets' new veterans channeled their win-or-die attitude to lead the Nets over the Heat 101-100.

Share Tweet

CNNSI.com

Nov 2, 2013

His Celtics lost to the Bucks 105-98, but Brad Stevens learned Boston's past is his greatest ally.

Share Tweet

76ers Surprise Bulls, Improve To 3-0

Nov 2

Michael Carter-Williams had 26 points and 10 assists to help the 76ers come from behind to beat the Bulls 107-104.

Gay's Double-Double Lifts Raptors

Nov 2

Rudy Gay tallied 18 points and 15 rebounds to lead the Raptors past the Bucks 97-90.

Sports Columnists

Ian Thomsen: Celtics' history affords Brad Stevens freedom to rebuild at o…

Nov 2

BOSTON -- For almost 30 minutes there was reason to believe things may not be so bad after all. But then a Celtics' 72-50 lead was slashed down to 10 points on a bad midcourt shooting foul by rookie Kelly Olynyk at the third-quarter buzzer.