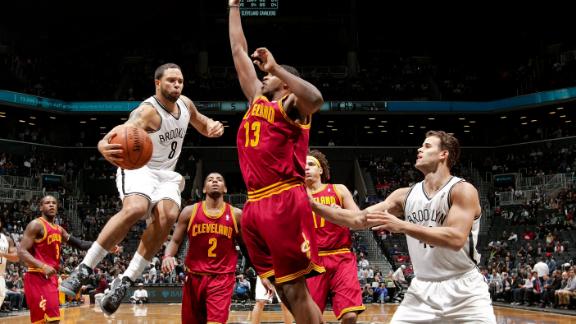 Raptors prevail despite 5-point fourth quarter

ESPN.com

Nov 13, 2012

DeMar DeRozan scored 15 points and Jose Calderon had 13 points, 10 rebounds and 10 assists to lead the Toronto Raptors over the Indiana Pacers 74-72 on Tuesday night.

Share Tweet

ESPN.com CNNSI.com nytimes.com

Nov 13, 2012

Carmelo Anthony scored 25 points, and JR Smith and Raymond Felton each added 21 as the New York Knicks held off the Orlando Magic 99-89 on Tuesday night.

Share Tweet

ESPN.com deadspin.com

Nov 13, 2012

The start of the second quarter of Tuesday's game between the New York Knicks and the Orlando Magic was delayed when a Magic stunt team member was rushed to the hospital after she fell and hit her head on the court.

Share Tweet

deadspin.com

Nov 13, 2012

After being out of the league for two years, you can't blame Rasheed Wallace if he's trying to force someone's hand on snapping up an endorsement contract. His surprising resurrection has been an unexpected bright spot this season for the (as of now) 4-…

Share Tweet

Injured Raptors Lowry, Fields skip trip to Indiana

nba.com

Nov 13, 2012

Toronto guard Kyle Lowry and forward Landry Fields didn't travel with the Raptors for their game against the Indiana Pacers on Tuesday night.

Share Tweet

MEMPHIS, Tenn. (AP) The Memphis Grizzlies have announced that assistant general manager Kenny Williamson has died of cancer. He was 65.

Share Tweet

Top 10 NBA Duos Under 25 Years Old

Getting your hands on young talent in the NBA is the equivalent to finding a $100 dollar bill on the ground. Some of it has to do with luck; some of it has to do with being in the right place at the right time. Once you get it, you contemplate whether o…

Share Tweet

So Mike D'Antoni is headed to Hollywood, and the Internet is ablaze trying to determine just how much this helps or hurts the Lakers, everybody's favorite talking point this season. The Lakers are a superstar team, in a superstar town, and D'Antoni

Share Tweet

TORONTO (AP) The Utah Jazz didn't just work overtime to earn their first road win of the season. They worked three of them.

Share Tweet

CHICAGO (AP) Rajon Rondo extended his own pursuit of a record and helped the Boston Celtics reverse some recent history.

Share Tweet

The Best Player In The World Rips Out Houston's Heart; Utah Wins A 3OT Thriller

If you're trying to beat Miami, there are a few specific things you can't do. You can't let LeBron dominate an entire second half. You can't let Chris Bosh shoot the same jumpers he takes in the pregame all night long. And if you have a look at a

Share Tweet

'70s Babies: Breaking Down the Red-Hot New York Knicks

grantland.com

Nov 13, 2012

Heading into tonight's game against Orlando, New York is the only undefeated team in the NBA. Save the pillowcase–of–snow globes thumping ...

Share Tweet

Knicks Improve To 5-0

Nov 13

Knicks go on 18-4 run in the fourth quarter to put away the Magic, 99-89.

West Side/East Side: The Lakers Choose D'Antoni

Nov 13

J.A. Adande and Israel Gutierrez on the hiring of Mike D'Antoni and the implications of passing on Phil Jackson.

Raptors Hold On To Top Pacers

Nov 13

Jose Calderon drops a triple-double on the Pacers.