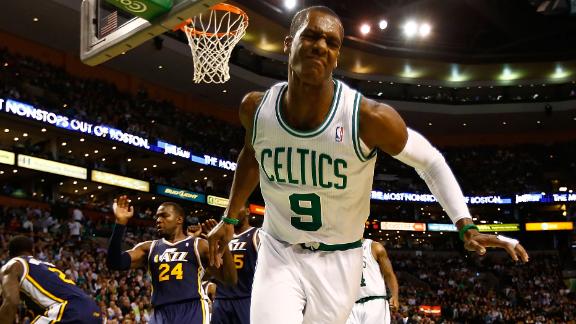 Paul Pierce hit two free throws with 19.5 seconds left and finished with 23 points, lifting the Boston Celtics to a 98-93 win over the Utah Jazz on Wednesday night.
Share
Tweet
Nets' Wallace (ankle) to miss 6th straight game

ESPN.com

Nov 14, 2012

Brooklyn Nets forward Gerald Wallace will miss his sixth straight game Thursday against the Boston Celtics due to a sprained left ankle.

Share Tweet

Greg Monroe had 19 points, 18 rebounds and six assists to help the Detroit Pistons beat the Philadelphia 76ers 94-76 on Wednesday night for their first win of the season.

Share Tweet

See an NBA game for $0.10 … seriously 10 cents

yahoo.com

Nov 14, 2012

Interested in hosting a party for you and 16 of your friends at a Philadelphia 76ers game? If you've got $6.80 lying around, you're in luck, because a block of 17 tickets for Wednesday night's game against the Detroit Pistons was on sale for $0.40 a tic…

Share Tweet

nydailynews.com yahoo.com

Nov 14, 2012

At least the Lakers gave Phil Jackson a courtesy call. The Knicks didn't even pick up the telephone last May to gauge whether the Zen Master had any interest in possibly winning title No. 12 with Red Holzman's old club.

Share Tweet

The 10 Most Interesting Story Lines Of The NBA Season

dimemag.com

Nov 14, 2012

Yes, we know the season is still young. There are a lot of games left to be played in what should be a great year, but still, it seems there'll be a surprise for us waiting around every corner. This season has already given us some unexpected gut-punche

Share Tweet

Carmelo Has a Mini Meltdown; The Spurs Torture the Lakers; Deron Williams & Kyrie Irving Put On A Show

dimemag.com

Nov 14, 2012

Pau Gasol, we hope you surround yourself with protection tonight. You might turn up along the rocks in the Pacific Ocean tomorrow morning, courtesy of a crazed Kobe Bryant. Down two on the last possession last night against the Spurs, Gasol couldn't fin

Share Tweet

Pistons Cruise Past 76ers For First Win

Nov 14

Greg Monroe's 19 points and 18 rebounds lead Pistons to 94-76 win over 76ers.

Rondo Hurt In Celtics' Win

Nov 14

After notching his 32nd straight game with 10 or more assists, Rajon Rondo hurts his ankle in Celtics' 98-93 win over Jazz.

TrueHoop TV: L.A.'s Identity

Nov 14

David Thorpe loves Mike D'Antoni's offense, and he loves the Lakers' top players, but he doesn't see a match between coach and roster. Plus Coach Thorpe's favorite rookie.

Are The Knicks For Real?

Nov 14

Stephen A. Smith and Skip Bayless talk about the Knicks' impressive 5-0 start, questioning their durability and ability to play together.