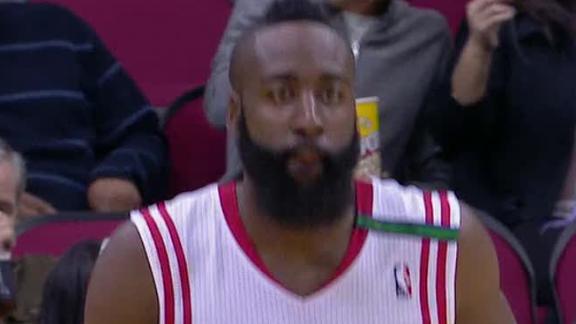 Updated Nov 27, 2012
Share
Tweet
James Harden scored 24 points and matched a career high with 12 assists, Patrick Patterson added 22 points and the Houston Rockets beat the Toronto Raptors 117-101 on Tuesday night.
Sixers snap 6-game skid against Mavericks

Updated Nov 27, 2012

Share Tweet

Evan Turner scored 22 points and Thaddeus Young had 20 to lead the Philadelphia 76ers to a 100-98 win over the Dallas Mavericks on Tuesday night.

Section 15: A Buddy Road Trip

Updated Nov 27, 2012

Share Tweet

The Off the Dribble team was interested in learning about Nets fans now that the team is in Brooklyn. Friends Richard Baker from Pennsylvania, and Joe McCormick from New Jersey hung out in Section 15 on Monday.

Source:

nytimes.com

A Pac-10 Coach Called Jeremy Lin By A Porn Star's Name While Recruiting Him

Updated Nov 27, 2012

Share Tweet

Thanks to a new cover story on James Harden and Jeremy Lin, we now know that before Lin became the most popular player on the planet for a three-week stretch last February, a Pac-10 coach once called him the name of a porn star on accident for a whole r…

Source:

dimemag.com

Deron Williams Makes It About Team, Not Place

Updated Nov 27, 2012

Share Tweet

With his performance on Monday night, point guard Deron Williams helped persuade fans to support the Nets, not just Brooklyn.

Source:

nytimes.com

Updated Nov 27, 2012

Share Tweet

Last night's battle of the boroughs is all New Yorkers can talk about today. The New York Post had the "Lords of Flatbush" headline after Brooklyn's win; the Daily News went with the "Battle of Hooplyn." Since it was such a big game for the re

Sources:

dimemag.com CNNSI.com

Updated Nov 27, 2012

Share Tweet

Nets center Andray Blatche took a shot at his old team, the Wizards.

Deadspin NBA Shit List: Nate Robinson, The Tiny Exploding Cosmos

Updated Nov 27, 2012

Share Tweet

A celebration of the NBA's most infuriating players, both past and present. Read other NBA Shit List entries here. More »

The Bobcats Were So, So Awful Last Night

Updated Nov 27, 2012

Share Tweet

While Raymond Felton was ruining the end of an otherwise good Nets-Knicks game for a national audience, the Charlotte Bobcats were quietly having a statement game of their own-plunging deep into the depths of basketball shittiness during a 114-69 loss t

Slick Rick's Embarrassing Performance At The Nets Game Last Night Was Worse Than You Think

Updated Nov 27, 2012

Share Tweet

We told you about Slick Rick getting booed at halftime of the Knicks-Nets game, and about Frank Isola of the New York Daily News getting all kinds of grief on Twitter for wondering whether Slick Rick was indeed a hip-hop legend. Slick's got nothing to p…

Updated Nov 27, 2012

Share Tweet

Brook Lopez had a monster game in the Brooklyn Nets' landmark 96-89 overtime win over the New York Knicks on Monday night, turning in a team-high 22 points on 9-for-20 shooting, 11 rebounds (including seven on the offensive glass) and five blocked shots…

Updated Nov 27, 2012

Share Tweet

To New Yorkers, last night felt important. The Battle of the Boroughs felt like it mattered. Yes, most of the rest of the country could care less about who owns New York, but to everyone actually in the Big Apple, it's like choosing between Hova and Nas

Source:

dimemag.com

D-Will reveals he's playing through wrist sprain

Updated Nov 27, 2012

Share Tweet

Brooklyn Nets point guard Deron Williams, who has been playing through a litany of minor injuries lately, revealed he sprained a joint in his right shooting wrist while bracing a fall in Friday night's game against the Los Angeles Clippers.

Rockets Roll Raptors, 117-101

Nov 27

James Harden leads Rockets with 24 points.

Rivalries, Dead Or Alive?

Nov 27

The '80s and '90s are long gone. Are NBA rivalries, too? J.A. Adande and Israel Gutierrez go to battle.

TrueHoop TV: Hello Brooklyn

Nov 27

Kevin Arnovitz and Beckley Mason following the Knicks-Nets game on Monday night.

Best In New York

Nov 27

Chris Broussard discusses the atmosphere at the Barclays Center for Knicks-Nets and the best player, center and coach between the Knicks and Nets.