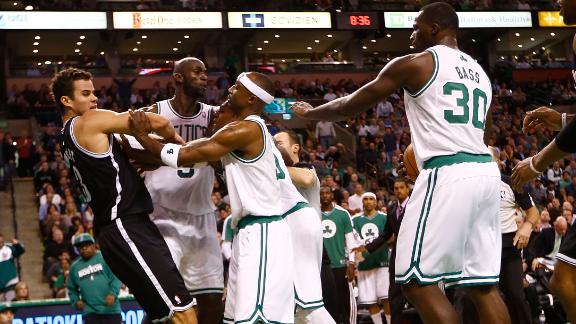 nba.com
ESPN.com
dimemag.com
Updated Nov 29, 2012
Boston Celtics point guard Rajon Rondo was suspended for the third time this calendar year on Thursday when the NBA told him to sit out two games without pay for starting a skirmish that sent players sprawling into the courtside seats.
Share
Tweet
CNNSI.com

Nov 29, 2012

Did the Thunder want to deal James Harden? Of course not. But when Harden refused to sacrifice, OKC moved on. Even with a new Big Three, they remain contenders, says Ian Thomsen.

Share Tweet

In Amar'e Stoudemire's defense, he has never gone on record as refusing to give up his spot as starting power forward on the New York Knicks. It was coach Mike Woodson that seemed intractable to that end, calling Amar'e his starter before the season in …

Share Tweet

nba.com nytimes.com ESPN.com

Nov 29, 2012

Brook Lopez is headed back to the sideline with more foot pain, though the Brooklyn Nets are sure his latest problem is nothing like the one that wrecked his 2011-12 season.

Share Tweet

yahoo.com dimemag.com

Nov 29, 2012

If there's one thing that I think we can all agree on, it's that life has been a little too smooth for Andrew Bynum lately. From the totally uneventful start to his first training camp with the Philadelphia 76ers and news that he definitely wouldn't nee…

Share Tweet

Jordan Melo M9 "Christmas"

Do you have your Christmas list all set? If not, you probably want to put these on there: the Jordan Melo M9 "Christmas" edition. Even though he's spent the first few weeks of the season in the Jordan Melo M8 Advance, Carmelo Anthony's newest sign

Share Tweet

deadspin.com yahoo.com

Nov 29, 2012

Paul Pierce is looking old these days. On Sunday, Jameer Nelson victimized him with a nasty crossover, leaving Pierce flat on his back. Last night, Pierce ended up looking helpless and silly yet again after being brought to his hands and knees by a Joe …

Share Tweet

The 10 Best NBA Team Rivalries Of All Time

The word "rival" is lost in the NBA today. Too often we see camaraderie between players on opposing teams. With the growing presence of AAU basketball, the players have gotten closer and closer. AAU isn't the only thing that brings the players toget

Share Tweet

yahoo.com

Nov 29, 2012

On Thursday morning, longtime Associated Press scribe Brian Mahoney tweeted a salient point about recent news concerning Laker coach Mike D'Antoni's regrets about taking on a job with the New York Knicks in 2008. Here's Mahoney's take: Brian's not wrong…

Share Tweet

Grizzlies roll again, dish Raptors 6th straight loss

Share Tweet

Nets, Celtics Get Into A Brawl In Boston; James Harden Has An Awful Reunion In OKC

With so much softness leaking into the modern game, we're always anxious to annoint the next great rivalry. Where is the next Bulls-Knicks going to come from? Or the next Sacramento-Los Angeles? Everyone loves when players get a little nasty, and last n

Share Tweet

Rajon Rondo Addresses Role In Fight

Nov 29

Rajon Rondo talks about his role in the Celtics-Nets fight.

Chicago Bulls Update

Nov 29

ESPN Chicago's Nick Friedell on the Bulls bench, Jimmy Butler, and the starters playing excess minutes.

New York Knicks Update

Nov 29

Ian Begley on Amare Stoudemire coming off the bench, the absence of Jason Kidd and Carmelo Anthony's torrid play.

Rondo Suspended Two Games

Nov 29

Stephen A. Smith shares his thoughts on Rajon Rondo's two-game suspension for his part in an on-court altercation with Kris Humphries.