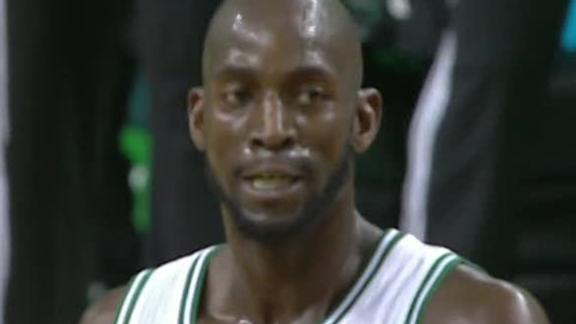 DeMar DeRozan scored 23 points, Amir Johnson added 16, and the Toronto Raptors beat the Phoenix Suns 101-97 to snap a six-game losing streak on Friday night.

Share Tweet

Carmelo Anthony and J.R. Smith each scored 20 points, and the New York Knicks beat the Washington Wizards for the 10th straight time, 108-87 on Friday night.

Share Tweet

Johnson, Nets hold off Magic to win fifth straight

Share Tweet

Evan Turner scored 25 points, Jason Richardson hit four 3-pointers down the stretch and the Philadelphia 76ers beat the Charlotte Bobcats 104-98 on Friday night for their third consecutive victory.

Share Tweet

nba.com

Nov 30, 2012

Celtics coach Doc Rivers criticized the NBA's fine against the San Antonio Spurs after they kept four top players out of a game.

Share Tweet

nytimes.com ESPN.com

Nov 30, 2012

The Nets insist that, this time, the injury to Brook Lopez's right foot truly is minor.

Share Tweet

nytimes.com CNNSI.com

Nov 30, 2012

The Celtics defense has shown some cracks this season and they are suddenly relying on offense to win games.

Share Tweet

The Toronto Raptors have signed free-agent swingman Mickael Pietrus and waived forward Dominic McGuire.

Share Tweet

Dime Q&A: Fabolous Speaks On The Knicks/Nets Rivalry & His Next Step As A Hip-Hop Artist

dimemag.com

Nov 30, 2012

A certain aura illuminates the state of New York now. After millions of homes were mangled by the devastating storm caused by Hurricane Sandy, many lives were depleted of happiness. Souls were deflated. Streams of tears and anguish flooded the streets a…

Share Tweet

What Might the Lakers Get by Trading Gasol?

nytimes.com

Nov 30, 2012

The Lakers should have plenty of appealing options for trading partners if they decide to move Pau Gasol.

Share Tweet

New York Knicks forward Amar'e Stoudemire underwent a surgical procedure to repair his injured left knee on Wednesday and will be sidelined approximately six to eight weeks, the team announced.

Share Tweet

Raptors Claw Past Suns, 101-97

Nov 30

DeMar DeRozan leads Raptors past Suns.

Nets Win Fifth Straight

Nov 30

Nets top Magic, 98-86.

TrueHoop TV: Factory Talk

Nov 30

Henry Abbott has always been mesmerized by the widespread affection for Cheesecake Factory among NBA players. In the latest Weekend Stein Edition of TrueHoop TV, Abbott grills Marc Stein for some further insight on the matter.