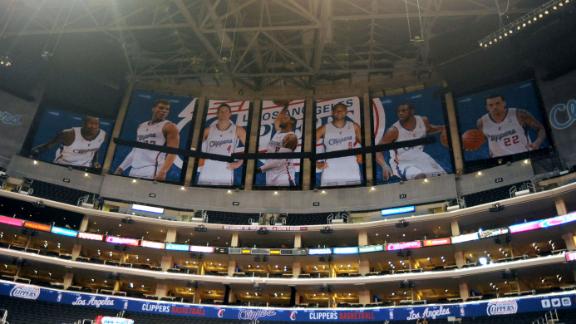 ESPN.com
Updated Oct 23, 2013
The Los Angeles Lakers can blame one of the longest-tenured Boston Celtics employees as the reason their championship banners and retired jerseys are now covered up during Los Angeles Clippers games.
Share
Tweet
Curry, Howard, D-Rose & The Nets Featured On The Cover Of Sports Illustrated's NBA Preview Issue

The 2013-14 NBA season is less than a week away, and that means Sports Illustrated is writing their NBA season preview. Who made the cover in an offseason with so many big moves? Well SI was smart and decided to release four separate covers featuring Dw…

Share Tweet

CNNSI.com

Oct 23, 2013

SACRAMENTO, Calif. (AP) -- Sacramento Kings assistant coach Brendan Malone has resigned.

Share Tweet

Metta World Peace is in a movie with Screech, Eve, and Marc Maron, and it looks great (Video)

Since undergoing a sort of image rehab as a member of the Los Angeles Lakers, New York Knicks forward Metta World Peace has never shied away from the media spotlight. In addition to doing ads for very confusing cell phone watches, MWP has tried his hand…

Share Tweet

Bon Jovi gets a banner at the Air Canada Centre: Maple Leafs Sports & Entertainment president Tim L

deadspin.com

Oct 23, 2013

Bon Jovi gets a banner at the Air Canada Centre: Maple Leafs Sports & Entertainment president Tim Leiweke: "We've left plenty of room up there for Stanley Cup banners." And, you know, maybe Raptors banners one day, right? Right? [Toronto S…

Share Tweet

Meet Team WHOP, the Philadelphia 76ers' rap group

Sure, the Philadelphia 76ers are likely to be historically bad this season and might only have "six NBA players" right now, but at least they're getting the most important thing down — the establishment, fostering and nurturing of their own hi…

Share Tweet

20 Craziest Fights In NBA History

Gone are the days where two NBA teams who straight-up didn't like each other could get together and elevate their rivalry with a brawl. Good riddance. Those who enjoy watching titans inflict pain on each other can find plenty of other vices to quench th…

Share Tweet

Philadelphia coach Brett Brown talks about working with 'six NBA players' and 'after that, who knows?'

On Tuesday we wondered aloud just why, exactly, the Philadelphia 76ers were letting center Kwame Brown loiter around their team, even with top pick Nerlens Noel possibly out for the entire season due to an ACL tear. On Wednesday, we've discovered the re…

Share Tweet

The Many Rituals Of Nets Guard Jason Terry

Perhaps forgotten within the trade sending Paul Pierce and Kevin Garnett to Brooklyn, was the third player included in that deal, Jason Terry. Terry struggled in Boston last season, but he's getting another fresh start, even if he continues to perform t…

Share Tweet

Pierce, Garnett Sit Out In Boston

Oct 23

The Celtics defeated the Nets on Wednesday night 101-97.

Brad Stevens Conversation

Oct 23

Celtics coach Brad Stevens sits down with ESPN basketball Insider Jeff Goodman to talk about the label of being a "college coach," his relationship with Rajon Rondo and acclimating to the city.

Bucks Win First Preseason Game

Oct 23

O.J. Mayo scored 22 points in the Bucks' 105-95 win over the Knicks.

Mint Condition: 2013-14 NBA Preview

Oct 23

Kareem Abdul-Jabbar gives his take on the changes in the sports memorabilia industry, and Panini VP of marketing Jason Howarth details the trading card markets for Kobe Bryant and Dwight Howard as well as rookies that collectors should watch out for.