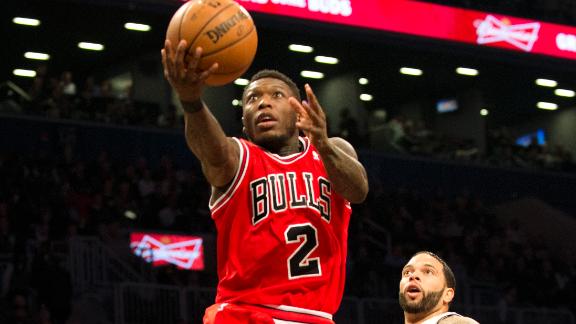 ESPN.com
Updated Apr 22, 2013
Carlos Boozer had 13 points and 12 rebounds, Joakim Noah gutted his way through a foot injury to make three fourth-quarter baskets, and the Chicago Bulls beat the Brooklyn Nets 90-82 on Monday night to even their first-round series at one game apiece.
Share
Tweet
On the flight back to Atlanta, Hawks coach Larry Drew watched tape of his team getting pushed around in Game 1 of the playoffs.

Share Tweet

Earl Monroe nixed a move to the Indiana Pacers out of fear of the Ku Klux Klan

This current generation of NBA stars has taken unprecedented control over deciding which teams they play for. In recent years, LeBron James, Carmelo Anthony, Dwight Howard, Chris Paul, and others have all taken their impending free agency as an opportun…

Share Tweet

nba.com

Apr 22, 2013

Paul George isn't satisfied with one playoff win and one triple-double.

Share Tweet

nba.com CNNSI.com ESPN.com dimemag.com

Apr 22, 2013

When the Cavaliers hired Mike Brown as their coach in 2005, owner Dan Gilbert first talked to Phil Jackson about coaching in Cleveland.

Share Tweet

Nate Robinson tattoo on fan's shoulder looks great, was a very good idea (Photo)

Once upon a time, a fan of Chicago Bulls point guard Nate Robinson had a dream, and asked a question. @nate_robinson If I get a tattoo of your photo, send me your shirt? twitter.com/ivan_ecus/stat… - Iván García (@ivan_ecus) April 4, 2013 The fan di

Share Tweet

deadspin.com

Apr 22, 2013

David Lee tore his hip flexor in Saturday's playoff game against the Nuggets, an injury that will keep him out for the rest of postseason. Despite his rocky history with Lee, Pacers center Roy Hibbert was sad to see one of his fellow players go down wit…

Share Tweet

Before playing the Miami Heat, Milwaukee's Samuel Dalembert talks up signing with the Heat

Milwaukee Bucks reserve center Samuel Dalembert is not some team-killing cancer, musing openly about his future beyond 2012-13 on full record with reporters. He's just an open, candid, honest guy when it comes to discussing the life of a moderately pric

Share Tweet

Jeff Van Gundy rails against the Pistons for firing Lawrence Frank, citing Joe Dumars' failures

The actual particulars of Jeff Van Gundy's latest rant don't matter, because his point is spot on. So the fact that the former coach and ABC/ESPN analyst is defending recently-fired Detroit Pistons coach Lawrence Frank really shouldn't get in the wa

Share Tweet

Shaq runs around NBA TV set in his underwear because he loves doing stuff in his drawers (Video)

Comedy fans waiting with bated breath for Shaquille O'Neal to bust out some hilarious hijinks during the 2013 NBA Playoffs got their wish Sunday night during halftime of TNT's broadcast of the Miami Heat's 110-87 win over the Milwaukee Bucks. And how di…

Share Tweet

Let's be honest: While Sunday's series-opening matchup between the Miami Heat and Milwaukee Bucks was closer than many expected throughout the first half and early third quarter, it wasn't an especially thrilling game. Sure, LeBron James was looking cus…

Share Tweet

Gutierrez: Miami sets the tone in playoff opener

ESPN.com

Apr 22, 2013

While LeBron spreads the ball around, Bucks guards get only themselves involved

Share Tweet

Kobe Bryant Tries To Coach The Lakers On Twitter; No Revenge For James Harden; The NBA Playoffs Lose Another All-Star

dimemag.com

Apr 22, 2013

There's a first time for everything, and in yesterday afternoon's matinee in San Antonio, we saw an injured star player attempt to coach a playoff team through 140 characters. Anxious that he can't be out there helping his teammates, Kobe Bryant too

Share Tweet

Bulls Even Series With Nets

Apr 22

Chicago avenges it's 17-point loss in Game 1 behind double-doubles from Luol Deng, Carlos Boozer and Joakim Noah in a 90-82 win over Brooklyn.

Playoff Report

Apr 22

David Thorpe on Big Apple big men, old point guards, and the underdog with bite.