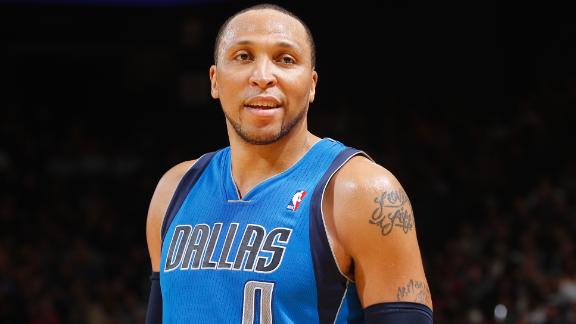 ESPN.com
Updated Aug 11, 2014
The Indiana Pacers have jumped into the race for Shawn Marion's signature -- competing with LeBron James' Cleveland Cavaliers -- by hosting Marion on a visit to Indianapolis, team president Larry Bird has confirmed.
Share
Tweet
As soon as news broke Thursday that the Cleveland Cavaliers had reached an agreement to trade for Minnesota Timberwolves All-Star Kevin Love, the NBA world let its collective imagination wander. The Cavs turned an already terrific summer into something …

Share Tweet

In the end, the summer of 2010 turned out to be a teachable moment for all of us. The Knicks learned not to sign a guy with an uninsured bad back and knees. The Chicago Bulls learned that Carlos Boozer was not quite the low post scorer that central cast…

Share Tweet

Paul George out, but 'PG-13' in stores soon

ESPN.com

Aug 11, 2014

Indiana Pacers star Paul George changed his uniform number from 24 to 13 (think "PG-13") before his recent injury.

Share Tweet

We're less than two weeks away from the official legal completion of the reported blockbuster deal between the Cleveland Cavaliers and Minnesota Timberwolves, a swap that will result in LeBron James getting what he wants — an All-Star power forward in K…

Share Tweet

Report: Ray Allen's Agent Denies Cavs Story, Says Allen Still May Retire

dimemag.com

Aug 11, 2014

On Saturday, we relayed the report Ray Allen had decided to forestall his retirement and a future plaque in Springfield to play next season. Former Heat mate LeBron James and the new-look Cavs were supposed to be frontrunners to land his shooting servic…

Share Tweet

Paul George Switching Uniform Number

Aug 11

ESPN sports business reporter Darren Rovell breaks down Paul George's decision to switch his uniform number from 24 to 13.

Cavs Not the Favorites

Aug 11

The ESPN Summer Forecast, historically very accurate, calls LeBron's Cavaliers the East favorites, but David Thorpe is picking the Bulls.