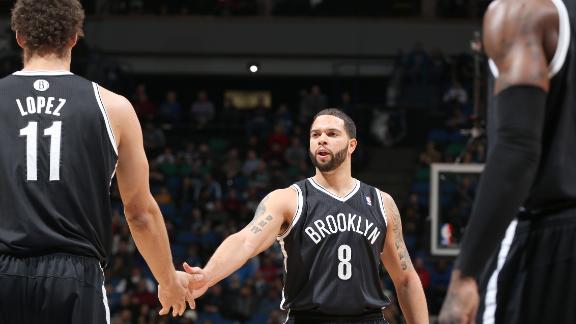 Irving, Waiters spark Cavaliers' rout of Bobcats

ESPN.com

Feb 6, 2013

Kyrie Irving scored 22 points in just three quarters, rookie Dion Waiters added 19 and the Cleveland Cavaliers didn't overlook a team with a worse record than their own, rolling to a 122-95 win over the Charlotte Bobcats on Wednesday night.

Share Tweet

deadspin.com

Feb 6, 2013

The Sixers are five games under .500 and hosting the Indiana Pacers isn't doing the Wells Fargo Center any favors, either. Things are so desperate in Philly that one fan was able to scoop up 18 tickets on stub-hub for $.04. He bought the entire row and …

Share Tweet

Milwaukee Bucks center Larry Sanders sat out Wednesday night's game against the Utah Jazz with a bruised back.

Share Tweet

Samuel Dalembert drops a career-best game, and is immediately put on the trading block

yahoo.com

Feb 6, 2013

So, Samuel Dalembert put together one of the better statistical lines of the NBA season on Tuesday. You may not have seen it, and you may not understand it, but Sam Dalembert managed 35 points on 17-21 shooting with 12 rebounds in only 27 minutes per ga…

Share Tweet

Reebok Classic's Kamikaze II Releasing In 5 Different Colors

dimemag.com

Feb 6, 2013

Remember the 1995-96 season? The Bulls and their 72 wins. Jordan and the 11s. It was a great time for basketball fans, and it was also perhaps Shawn Kemp's best season in the NBA. Seattle went to the Finals, and the Reignman rocked the legendary Reebok

Share Tweet

yahoo.com

Feb 6, 2013

The Indiana Pacers are in the midst of an NBA rarity. On Wednesday night the team will play its third game in three days, a statistical quirk that hasn't happened in the NBA this year and usually is only a feature of lockout-shortened seasons. The workl

Share Tweet

deadspin.com yahoo.com ESPN.com dimemag.com

Feb 6, 2013

Oh you know, just your standard fast-break, flip-the-ball-behind-your-head-from-below-your-hip-while-getting-fouled layup that hits every part of the rim before gently falling through the net. Nuggets forward Danilo Gallinari somehow managed to pull off…

Share Tweet

Williams Records 5,000th Assist In Win

Feb 6

Deron Williams surpassed the 5,000-assist mark and Brook Lopez scored 17 points to lead the Nets to their first win in Detroit since 2006.

Hibbert Leads Pacers To Fifth Straight Win

Feb 6

Roy Hibbert records double-double in Pacers 88-69 win over 76ers.

Rapid Fire With J.A. Adande

Feb 6

The ESPN analyst sounds off on the Lakers' future, LeBron James' salary and Joakim Noah's cashmere.

Jazz Cruise Past Bucks

Feb 6

Jazz improve to 19-5 at home with 100-86 win over Bucks.