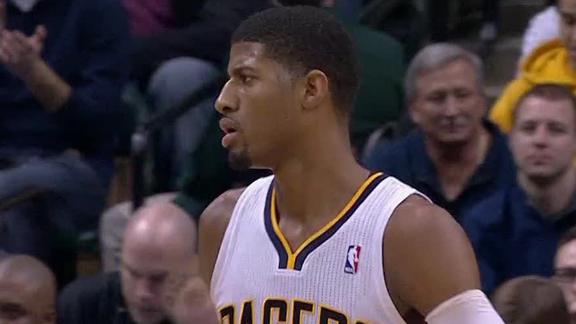 Turning It On: The Pacers' offense showed up in style in their 1…

CNNSI.com

Feb 20, 2013

The Pacers' offense showed up in style in their 125-91 blowout of the East rival Knicks. Indiana isn't known for its scoring, but that's what's clicking right now, says Rob Mahoney.

Share Tweet

Pistons turn back Bobcats despite Knight injury

ESPN.com

Feb 20, 2013

Greg Monroe scored 10 of his 19 points in the fourth quarter, stepping up with Brandon Knight on the bench nursing a hyperextended right knee, to lead the Detroit Pistons to a 105-99 victory over the Charlotte Bobcats on Wednesday night.

Share Tweet

Joe Johnson Makes Two Perfect Last-Second Shots In One Game

deadspin.com

Feb 20, 2013

There are two types of great buzzer-beaters. The first kind is the end result of a well-executed inbounds play, one that involves screens and misdirection and ends with a shooter getting open just long enough to rise up for a clean shot at the rim. (See…

Share Tweet

yahoo.com nydailynews.com

Feb 20, 2013

As one of the disappointing cornerstones of the Brooklyn Nets, Joe Johnson has received his fair share of negative criticism this season, and not just after being dragged into ridiculous arguments about LeBron James. Yet, despite his 42.7 percent mark f…

Share Tweet

Nets Hold Off Bucks, 97-94

Feb 20

Big fourth quarter lifts Nets past Bucks.

Pacers Take Laugher Over Knicks

Feb 20

Pacers outscore Knicks by 34 points, handing New York their third straight loss.

Irving floater in the lane

Feb 20

Kyrie Irving hits the floater in the lane

Knight Suffers Knee Injury In Pistons' Win

Feb 20

Brandon Knight hyperextends his right knee, but Greg Monroe steps up to score 19 points and lead Pistons to 105-99 win over Bobcats.