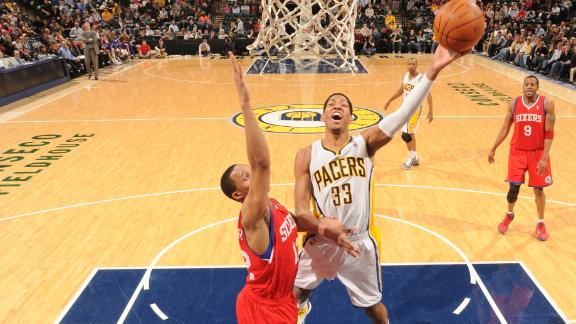 nba.com
CNNSI.com
ESPN.com
dimemag.com
Updated Feb 20, 2014
The Indiana Pacers pulled off one more bold move before Thursday's trading deadline.
Share
Tweet
Detroit Pistons guard Chauncey Billups had arthroscopic surgery on his left knee, and he's expected to be evaluated after two to three weeks.

Share Tweet

There were a lot of ancillary deals on top of a few we've already mentioned as the NBA's trade deadline came and went at 3 p.m. today. We told you about the stunner at the end between the Pacers and Sixers, and the Bucks-Bobcats swap that improved Charl…

Share Tweet

The NBA Trade Deadline Was Mostly Craptastic

deadspin.com

Feb 20, 2014

The NBA trade deadline came and went today, and unless you are a fan of the Indiana Pacers or Philadelphia 76ers, you probably don't give a damn about anything that happened. This wasn't quite the flurry of crap that we saw last year, but it was close.R…

Share Tweet

The 15 Most Lopsided Trades In NBA History

The trade deadline truly brings out the worst in desperate franchises looking to make a hasty deal. The main facilitator behind huge deals made at the deadline is the fact that the main player the deal is surrounding may leave during free agency, leavin…

Share Tweet

CNNSI.com ESPN.com dimemag.com

Feb 20, 2014

The Cavs made a deadline deal, but resisted the urge to blow things up. Are better days ahead?

Share Tweet

nba.com dimemag.com ESPN.com

Feb 20, 2014

The Charlotte Bobcats are trying to bolster their 3-point shooting for the playoff stretch run.

Share Tweet

10 Bold Predictions For The NBA's Second Half

We're technically past the halfway point in the NBA season, but really, let's be serious: Things don't start to heat up until after the All-Star break. Now we're on the cusp of the trade deadline, and soon teams will be fighting for playoff spots and lo…

Share Tweet

Sources: Sixers Send Spencer Hawes To Cavs

Feb 20

Amin Elhassan discusses the Cavaliers' trade for 76ers center Spencer Hawes.

Sources: Bobcats Get Gary Neal From Bucks

Feb 20

Amin Elhassan discusses the Bobcats' trade for Bucks point guard Gary Neal.

Granger To 76ers, Turner To Pacers

Feb 20

Tim Legler, Tom Penn and Chris Broussard break down the trade between Indiana and Philadelphia, which sends Danny Granger to the Sixers for Evan Turner and Lavoy Allen.

Nuggets Roll Bucks

Feb 20

Kenneth Faried scored 26 points to lead the Nuggets past the Bucks 101-90.