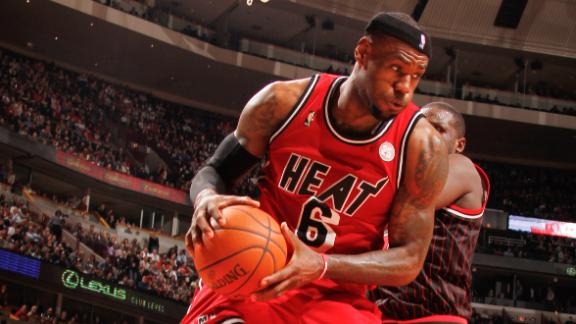 Bulls Fans Roared With Approval When They Realized LeBron James Was Injured By A Hard Foul

deadspin.com

Feb 21, 2013

Midway through the final stanza of tonight's Heat-Bulls matchup, Chicago hadn't shown much bite. Down 16 and lacking much motivation at all, Chicago brought United Center fans to their feet, finally, when Nate Robinson chased down LeBron James and stopp…

Share Tweet

Like many teams, the Chicago Bulls stood pat at Thursday's trade deadline, avoiding a cloudy financial future in the hopes that better, less risky opportunities will come along soon. Unlike other teams, the Bulls know they'll add an All-NBA player to th…

Share Tweet

The Magic traded shooting guard J.J. Redick, center Gustavo Ayon and reserve point guard Ish Smith to the Bucks in exchange for guards Doron Lamb and Beno Udrih, as well as forward Tobias Harris.

Share Tweet

nba.com

Feb 21, 2013

Kirk Hinrich is sidelined again for the Chicago Bulls.

Share Tweet

yahoo.com

Feb 21, 2013

The 2013 NBA trade deadline has passed, and it was not particularly exciting. After weeks of rumors and speculation, we have been left with a handful of deals unlikely to make much difference to the postseason. Yes, the Milwaukee Bucks added J.J. Redick…

Share Tweet

dimemag.com

Feb 21, 2013

As we noted in Smack, amazing call by the commentators. What! What! Wooo! This one-handed facial from Michael Kidd-Gilchrist has to be one of the best dunks all season. Charlotte might've lost the game, but Greg Monroe is still feeling dizzy today. What

Share Tweet

dimemag.com

Feb 21, 2013

When Houston traded for James Harden, they were hoping, maybe even believing that they were getting a star. But we're not sure anyone thought they were getting this. In Houston's wild 122-119 comeback win over the Thunder, Harden not only had a defini

Share Tweet

Atlanta ready to move Smith; more trade chatter

CNNSI.com

Feb 21, 2013

The latest trade chatter leading into Thursday afternoon's deadline...

Share Tweet

ESPN.com

Feb 21, 2013

Deron Williams scored 23 points and Nets escaped with a 97-94 victory over the Milwaukee Bucks on Wednesday night after Monta Ellis missed on a chance to tie the game with three foul shots in the final seconds.

Share Tweet

NBA Trade Deadline Winners, Losers

Feb 21

Flip Saunders, Chris Broussard and Tom Penn break down the winners and losers at the NBA trade deadline.

Flip Chart: Derrick Rose Comeback

Feb 21

Flip Saunders discusses how he would coach Derrick Rose back into the Bulls' lineup.

Hypothetical NBA Trades

Feb 21

Bill Simmons fires up the NBA Trade Machine for some deadline deals.

LeBron, Heat Win Ninth Straight

Feb 21

LeBron James shoots better than 50 percent for the 11th straight game, leading the Heat to a 19-point win over the Bulls.