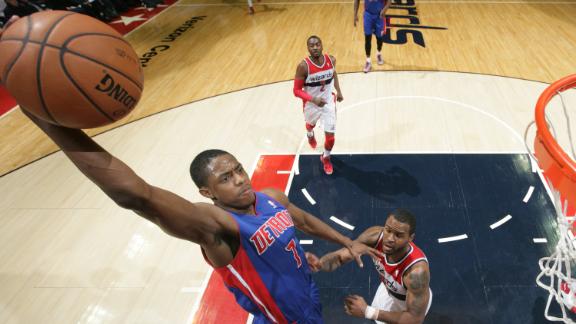 Knight, Monroe lead Pistons past Wizards
ESPN.com
Updated Feb 27, 2013
Brandon Knight returned from a right knee injury to score a career-high 32 points, Greg Monroe added 26 points and 11 rebounds, Jose Calderon finished with 18 assists, and Detroit escaped with a 96-95 victory over Washington.
Share
Tweet
Irving-less Cavs fight off rough start, tip Raptors

CNNSI.com

Feb 27, 2013

Irving-less Cavs fight off rough start, tip Raptors

Share Tweet

You can't really blame Steve Buckhantz for this one. From his seat (and from the first angle) it really did look like Trevor Ariza sealed an incredible Wizards comeback against the Pistons and a "Dagger!" was absolutely warranted. Unfortunatel…

Share Tweet

Mickael Pietrus Interrupts NBA TV Segment With Dancing Routine

NBA TV Canada broadcasters Paul Jones and Sherman Hamilton were just trying to get in a few league news and notes before Toronto's losing effort in Cleveland tonight when in came Mickael Pietrus. More »

Share Tweet

Wizards' Nene sits out game with shoulder injury

nba.com

Feb 27, 2013

Nene is out for the Washington Wizards' game against the Detroit Pistons because of an injured right shoulder.

Share Tweet

Thibodeau: Rose speculation hasn't caused slide

nba.com

Feb 27, 2013

Derrick Rose stood chatting with coach Tom Thibodeau for several minutes Wednesday after practice. Then, the Chicago Bulls' superstar worked on his jumper.

Share Tweet

nba.com yahoo.com ESPN.com dimemag.com CNNSI.com

Feb 27, 2013

Pacers center Roy Hibbert and Warriors forward David Lee have each been suspended a game without pay for starting an altercation during their game that drifted into the courtside seats.

Share Tweet

The 5 NBA Teams Primed To Make A Late-Season Run

dimemag.com

Feb 27, 2013

Some teams tank for the NBA Lottery in their final 25 games. Others coast into the playoffs contently. Only a few can pull off a run this deep into season that can change their playoff fortunes - even get them into the playoffs. These are the 5 teams I

Share Tweet

Kyrie Irving is following Cleveland's prescribed plan of rest.

Share Tweet

dimemag.com yahoo.com

Feb 27, 2013

LeBron James regularly puts on a show — usually some kind of dunk display — in pregame warmups. But when he broke out this one before Miami's game against the Cavs the other night, the internet fervor it ignited had everyone newly laser-locked on la

Share Tweet

Give and Go: Which team is the East's second-best?

CNNSI.com

Feb 27, 2013

Give and Go: Which team is the East's second-best?

Share Tweet

With respect to the shoving party that spilled into the first row, the most entertaining thing about last night's Warriors-Pacers game was Stephen Curry crossing up his opponents with extreme prejudice. His first victim was George Hill, whose valiant at…

Share Tweet

Warriors & Pacers Brawl Spills Into The Stands; LeBron Goes Absolutely Crazy

dimemag.com

Feb 27, 2013

It wasn't exactly reaching Malice at the Palace levels, but the brawl that spilled into the stands last night during Indiana's 108-97 win over the Warriors will certainly result in some special spankings from the league office. And you're never gonn

Share Tweet

Bucks bump Mavs in spite of Dirk's 21-20 night

ESPN.com

Feb 27, 2013

Monta Ellis scored 22 points, and the Milwaukee Bucks spoiled Dirk Nowitzki's first game in nearly 10 years with at least 20 points and 20 rebounds with a 95-90 victory against the Dallas Mavericks on Tuesday night.

Share Tweet

CourtVision: Tony Parker, San Antonio's Forgotten Man

grantland.com

Feb 27, 2013

On February 13, the Spurs and Cavaliers were tied at 93 with about 15 seconds left in the game. Dion Waiters was dribbling near midcourt and about to ...

Share Tweet

Monta Ellis Lifts Bucks Past Rockets At The Buzzer

Feb 27

Monta Ellis' off-balance 3-pointer at the buzzer the difference in Bucks' 110-107 win over Rockets.

Waiters Helps Short-Handed Cavs Top Raptors

Feb 27

Rookie Dion Waiters scored 23 points to help the Kyrie Irving-less Cavaliers top the Raptors.

Knight Pours In 32 Points In Return

Feb 27

Brandon Knight returned from a right knee injury to score a career-high 32 points in the Pistons' 96-95 win over the Wizards.

How To Handle Hibbert

Feb 27

Mike Tyson demonstrates how Stephen Curry should have handled Roy Hibbert.

Sports Columnists

Lee Jenkins: Could humility be delaying Derrick Rose's comeback?

Feb 27

At the 2008 Final Four in San Antonio, Derrick Rose was asked if he would enter the upcoming NBA draft, a reasonable question considering Pat Riley was among the many executives who had come to the Alamadome with the sole purpose of scouting him. Instea…

Ian Thomsen: LaMarcus Aldridge finally emerging as leader in Portland

Feb 27

LaMarcus Aldridge was bracing himself for the issues that have beset his Trail Blazers recently.