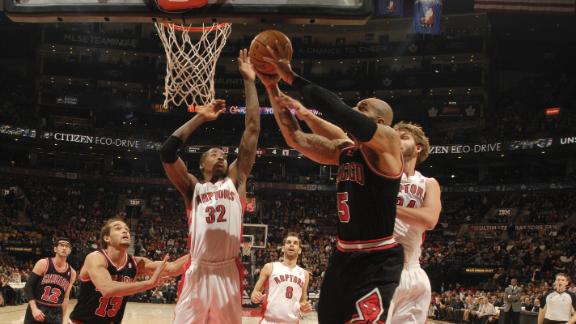 ESPN.com
Updated Jan 16, 2013
Luol Deng hit a tiebreaking jump shot with 3 seconds left in overtime and the Chicago Bulls beat Toronto 107-105 in overtime on Wednesday night, their eighth victory in nine meetings against the Raptors.
Share
Tweet
CNNSI.com

Jan 16, 2013

EL SEGUNDO, Calif. (AP) -- Pau Gasol expects to return from a concussion on Thursday night when the Los Angeles Lakers host the Miami Heat.

Share Tweet

Tayshaun Prince isn't bothered by trade rumors, and teams aren't bothered to trade for him

Pistons forward Tayshaun Prince has been working through rumors regarding his role in Detroit since his rookie season in the NBA. Though it's true they dimmed for a while after his second-year ascension and Detroit's run as championship contenders fro

Share Tweet

Create-a-Caption: In celebration of Drew Gooden

We had quite a lot of fun on Basketball Twitter on Tuesday night laughing at different faces made by Milwaukee Bucks power forward Drew Gooden, whom our friends at SB Nation (led by Brian Floyd) realized is quite photogenic, in his own inimitable way. A…

Share Tweet

Samuel Dalembert opens up about his non-relationship with former Bucks coach Scott Skiles

Former Milwaukee Bucks coach Scott Skiles has a history of not being fondly remembered by his teams upon leaving. In both Phoenix, Chicago and Milwaukee Skiles has parted from his clubs midseason, and not on the best terms. In his latest parting, Bucks …

Share Tweet

After an embarrassing 39-point loss to the Chicago Bulls on Monday in which his team scored just five points in the second quarter and 20 in the first half, Atlanta Hawks head coach Larry Drew promised to "shake things up" with his flagging sq…

Share Tweet

It hasn't been the best season for Indiana Pacers center Roy Hibbert. After a breakthrough 2011-12 campaign that saw him post career per-game highs in scoring, rebounding, shot-blocking and Player Efficiency Rating, make his first All-Star appearance an…

Share Tweet

Bulls Edge Raptors In Overtime

Jan 16

Carlos Boozer scored 36 points and Luol Deng hit a tiebreaking jumper with 3 seconds left to lift the Bulls.

TrueHoop TV: Rookie Watch

Jan 16

David Thorpe on who is leading the race for NBA's Rookie of the Year.

The Hobbling Knicks

Jan 16

Ian Begley and Jared Zwerling on Iman Shumpert's return, Rasheed Wallace's foot injury, and the latest on Raymond Felton.

Vucevic's Double-Double Leads Magic Past Pacers

Jan 16

Magic snap six-game home losing skid.