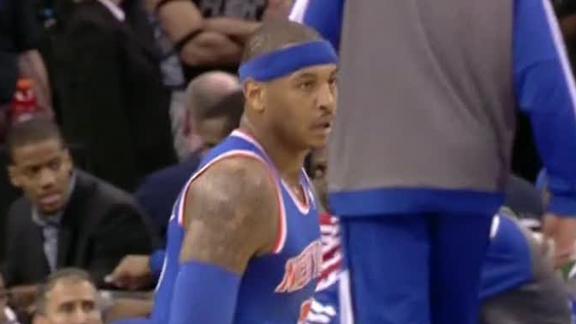 ESPN.com
nytimes.com
Updated Jan 17, 2013
Carmelo Anthony returned to his Olympic gold medal past and scored 26 points Thursday to lead the New York Knicks to a 102-87 victory over the Detroit Pistons.
Upvote
Share
Tweet
CNNSI.com

Jan 17, 2013

Bucks drop Suns for first win in Phoenix since '87

Upvote Share Tweet

The New York Knicks and Ball Don't Lie present a helpful guide to understanding England

yahoo.com

Jan 17, 2013

On Thursday afternoon, stateside time, the Detroit Pistons and New York Knicks will play a regulation game in London's O2 Arena. In anticipation of the event, Knicks website maestro Jonah Ballow put together an interview collection featuring various Kni

Upvote Share Tweet

D Rose 3.5 "Year Of The Snake" Edition Unveiled

dimemag.com

Jan 17, 2013

The Bulls won a close game in overtime last night thanks to Luol Deng morphing into Michael Jordan, but yet Chicago knows it won't be until Derrick Rose gets back that they'll take the next step. We've already seen a number of different "Year Of T

Upvote Share Tweet

CNNSI.com

Jan 17, 2013

Kevin Durant and Russell Westbrook dominate the headlines in Oklahoma City, but Ian Thomsen says that the emergence of Serge Ibaka has really kept the Thunder among the elite.

Upvote Share Tweet

yahoo.com

Jan 17, 2013

After a furious second-half Toronto Raptors comeback erased a 19-point Chicago Bulls lead and turned a laugher into a fun Wednesday night table-setter, the two teams sat tied at 105 with 8.7 seconds left in overtime. You might have expected the Bulls to…

Upvote Share Tweet

dimemag.com

Jan 17, 2013

Two things were clear in Oakland last night. Clearly, Golden State has a ceiling, and the Heat don't. And clearly, LeBron James is really freakin' good, like "the youngest player to ever score 20,000 points" good. In Miami's 17-point win, James

Upvote Share Tweet

Knicks Shut Down Pistons In London

Jan 17

Carmelo Anthony leads the Knicks with 26 points.