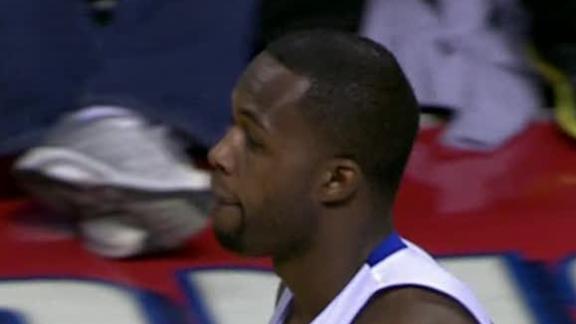 Updated Jan 20

Share Tweet

PHOENIX (AP) -- The Phoenix Suns have picked player development director Lindsey Hunter as interim coach, two days after the team parted ways with Alvin Gentry.

Source:

CNNSI.com

San Antonio Doesn't Even Need Tim Duncan; Warriors Win A Wild Game

Updated Jan 20

Share Tweet

In Tony Parker's last three games in Atlanta, he's scored 33 points a game. Knowing that, can we fault Gregg Popovich for sitting Tim Duncan in the Spurs' five-point win over the Hawks? Not really, not after seeing San Antonio hold the Hawks down in

Source:

dimemag.com

Jennings goes for 30 as Bucks slip past Blazers

Updated Jan 20

Share Tweet

Brandon Jennings had 30 points and eight assists, Ersan Ilyasova added 27 points and 14 rebounds, and the Milwaukee Bucks beat the Portland Trail Blazers 110-104 Saturday night to wrap up a successful road trip.

Updated Jan 20

Share Tweet

Randy Foye scored 20 points, Derrick Favors had a season-high 19 and the Utah Jazz beat the Cleveland Cavaliers 109-98 on Saturday night.

Dunk Of The Night

Jan 20

Brandon Knight cruises down the lane and finishes with a one-handed dunk.

Sports Columnists

NBA -- What does Sacramento Kings news mean?

Jan 20

Should these players be on the move before the trade deadline? We debate.

Sources: Seattle group has deal to buy Kings

Jan 20

The Maloof family that owns the Sacramento Kings has reached a purchase agreement to sell a 65 percent controlling interest in the franchise to a Seattle group led by Chris Hansen and Steve Ballmer, according to league sources.