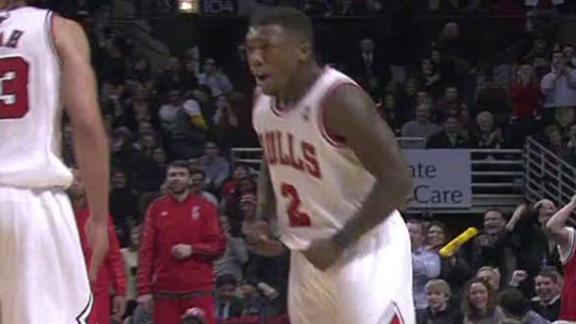 Detroit Pistons rookie Kim English gets his draft night handshake, seven months later

yahoo.com

Jan 23, 2013

Every high-level basketball player dreams of the moment when his name gets called at the NBA Draft. These athletes work so hard for so long to achieve in a dream, and over the course of a few seconds there name is called and they belong to an real live …

Share Tweet

nba.com

Jan 23, 2013

When the Milwaukee Bucks and coach Scott Skiles decided to part ways earlier this month, the franchise appeared to be treading on some pretty unstable ground.

Share Tweet

Fast 5: Tracking This Year's NBA Draft Class, Vol. 8

dimemag.com

Jan 23, 2013

Each Wednesday, we'll be assessing how the top prospects of the 2013 NBA Draft are faring in college and overseas. Stick with us each week for assorted thoughts, including the biggest risers and fallers, the standouts, the sleepers and what we know and

Share Tweet

Cleveland Cavaliers bust out 'Manti Te'o Kiss Cam' during win over Celtics

yahoo.com

Jan 23, 2013

The reported paid attendance for Tuesday night's game between the Cleveland Cavaliers and Boston Celtics was 14,192; this makes sense because the Cavs entered the game at 10-32 and Boston, while a perennial playoff team with several noteworthy stars, ha…

Share Tweet

The Memphis Grizzlies have signed guard-forward Chris Johnson to a 10-day contract a day after sending three players to the Cleveland Cavaliers to free up salary space.

Share Tweet

Handing out awards at NBA's midway point

CNNSI.com

Jan 23, 2013

With the 2012-13 season at the halfway mark, SI.com's NBA writers make their picks for the league's top performers. The MVP and Coach of the Year races have produced the most disagreement at the top, while clear favorites have emerged for Rookie of the …

Share Tweet

Bulls Come Back To Top Pistons

Jan 23

Bulls hold off Pistons, 85-82.

Blazers Burn Pacers, 100-80

Jan 23

Blazers snap six-game skid.