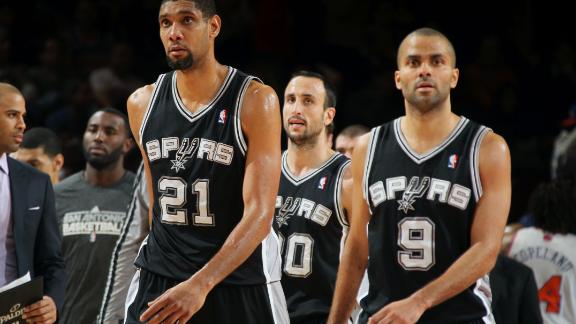 ESPN.com
Updated Jan 24, 2013
Tim Duncan was selected to his 14th All-Star game, Spurs teammate Tony Parker is joining him, and the Chicago Bulls also had two reserves chosen Thursday for next month's game in Houston.
Share
Tweet
nba.com

Jan 24, 2013

Still not old enough to legally toast any of his accomplishments, Kyrie Irving joined one of the NBA's most elite groups.

Share Tweet

Indiana's Other Secret Weapon Is Lance Stephenson

dimemag.com

Jan 24, 2013

Into the Indiana vacuum left by Danny Granger's knee injury has stepped Paul George, a player whose ascension and fit have been so fast and so seamless he's drawn many an endorsement to be an All-Star reserve (Dime has, too). George can leave you with

Share Tweet

Cavs assign new pick-up Selby to D-League

nba.com

Jan 24, 2013

The Cavaliers have assigned newly acquired guard Josh Selby to their Canton affiliate in the NBA Development League.

Share Tweet

Joakim Noah's diving save, Marco Belinelli's layup cap Bulls' 17-point comeback to beat Pistons (VIDEO)

yahoo.com

Jan 24, 2013

On Jan. 15, 2008, Joakim Noah probably didn't want to secure Ben Wallace's comeuppance. As a rookie, he probably didn't even want to secure Ben Wallace's job, or get then-Chicago Bulls coach Jim Boylan fired from his gig. What he wanted was for hi

Share Tweet

Ian Thomsen: Playoff-contending Blazers face tricky decision as trade deadline looms

CNNSI.com

Jan 24, 2013

The trade deadline sits like an inviting target four weeks away for the Trail Blazers, who have remained in playoff contention despite a recent six-game losing streak. Couldn't they make a deal to improve their unproductive bench and enhance their chanc…

Share Tweet

ESPN.com

Jan 24, 2013

When the Milwaukee Bucks and coach Scott Skiles decided to part ways earlier this month, the franchise appeared to be treading on some pretty unstable ground.

Share Tweet

NBA All-Star Reserves

Jan 24

Spurs and Bulls get two All-Star reserves each.

Bulls Update with Nick Friedell

Jan 24

The Bulls at the halfway point, Jimmy Butler's performance of late, Joakim Noah's All-Star chances and an update on Derrick Rose.