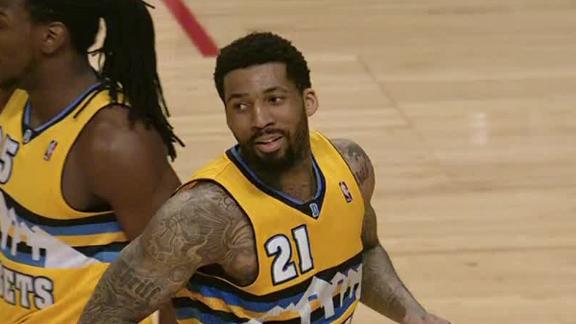 Updated Mar 18
Share
Tweet
Andre Iguodala's 3-pointer with 7.1 seconds left in overtime sent the Denver Nuggets to their 12th consecutive win, a 119-118 victory over the Chicago Bulls on Monday night.
Updated Mar 18

Share Tweet

Deron Williams scored 31 points in 28 minutes, and the Brooklyn Nets routed the hapless Detroit Pistons 119-82 Monday night in the opener of their eight-game road trip.

Source:

ESPN.com

Updated Mar 18

Share Tweet

Cavaliers guard Dion Waiters will miss the rest of Cleveland's game against Indiana with a sore left knee.

Source:

nba.com

Updated Mar 18

Share Tweet

Detroit Pistons coach Lawrence Frank returned to the team Monday after missing six games due to a family illness.

Updated Mar 18

Share Tweet

Indiana Pacers forward David West is out for Monday night's game against the Cleveland Cavaliers due to a sprained lower back.

Updated Mar 18

Share Tweet

When Larry Sanders got himself ejected during the closing stages of last Wednesday's loss to the Washington Wizards, his sarcastic triple-thumbs-up response gave the heave-ho a somewhat jovial feel that kind of took the edge off a double-digit defeat at…

Source:

yahoo.com

Updated Mar 18

Share Tweet

It was an incredible Sunday for Bucks guard Monta Ellis. Entering the fourth quarter of his team's eventual win over the Orlando Magic with just 14 points and nursing a nine-point deficit, Ellis went off for 25 points in the final period to lead Milwauk

Sources:

yahoo.com dimemag.com

What May Fall

Mar 18

Sam Bowie on the fragility of an NBA career.

Pacers Snap Two-Game Slide

Mar 18

Gerald Green sparks the Pacers with 20 points off the bench in a 111-90 win over the Cavs.

Nuggets Need OT To Win 12th Straight

Mar 18

Joakim Noah's offensive goaltending call in OT preserves the Nuggets' 119-118 win over the Bulls.