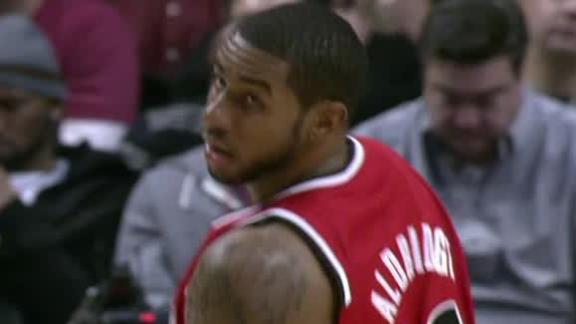 dimemag.com CNNSI.com

Mar 21, 2013

There is no telling how things are going to shape out in the West with five - maybe six - teams in position to win 50 games and tie the second-seeded Pacers in the East. The West is just better, excluding Miami, so it's more fun to look at how their

Share Tweet

Nate Robinson's "State Of Nate" — Season 2, Episode 4: "Miami Holdat"

dimemag.com

Mar 21, 2013

When Nate Robinson and filmmaker T.J. Regan told us that State Of Nate was going to let us in on Robinson's life, they meant it. In this season two episode, we head on over to Carlos Boozer's crib, where you get inside access into the mind of C-Booz (

Share Tweet

nba.com

Mar 21, 2013

Chicago Bulls superstar Derrick Rose still isn't sure when he'll come back from his knee injury.

Share Tweet

LeBron James Destroys Cleveland To Keep Miami's Winning Streak Alive; OKC/Memphis Put On A Show

dimemag.com

Mar 21, 2013

You would think a hush would've rained over Cleveland. But on top of the constant hum, you could almost hear fans crying and wailing, and even Cleveland's epic broadcast team sounded like they wanted to go lock themselves in a closet. It's not every

Share Tweet

Atmosphere In Cleveland

Mar 21

Mark Schwarz discusses the atmosphere at Wednesday's Heat-Cavaliers game and the mood of the Heat during the winning streak.

Chances LeBron Returns To Cavs

Mar 21

Chris Broussard discusses the chances LeBron James returns to Cleveland in 2014.

NBA Top Plays Of The Week

Mar 21

Watch the week's best plays from around the NBA.

Blazers Complete Sweep Of Bulls

Mar 21

Blazers hold off late charge from Bulls.