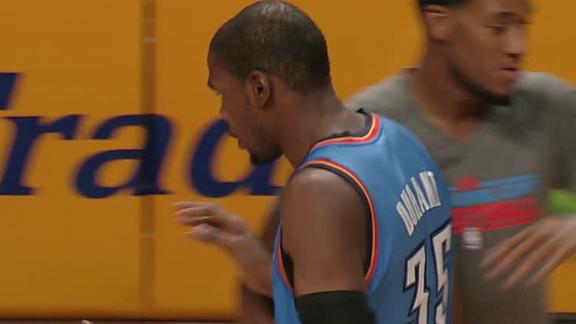 CHICAGO (AP) Oklahoma City went to Kevin Durant in the fourth quarter. Chicago was missing its best closer, so all the Bulls had to pitch in.
Share
Tweet
dimemag.com ESPN.com

Nov 8, 2012

After 10 years in the NBA, big man Mehmet Okur is retiring at the age of 33. He walks away with a ring (2004 Pistons) and career averages of 13.5 points and seven boards. Rather than show you pick-and-pop highlights of Okur bombing threes, we thought it…

Share Tweet

NEW YORK -- The Sacramento Kings' Thomas Robinson has been suspended two games without pay for throwing an elbow to the neck of Jonas Jerebko of the Detroit Pistons, it was announced today by Stu Jackson, NBA Executive Vice President Basketball Operatio…

Share Tweet

Irving May Be Under the Radar, but Not for Long

nytimes.com

Nov 8, 2012

Kyrie Irving of Cleveland has skills perfectly tailored for the modern N.B.A.

Share Tweet

CNNSI.com

Nov 8, 2012

In The Sixth Man's season debut, Ian Thomsen looks at the uncertain future facing Milwaukee and its star point guard, gets to know an early surprise and picks his All-Electable Team.

Share Tweet

The Poor Detroit Pistons Are Currently The Most Depressing Team In The NBA

deadspin.com

Nov 8, 2012

The video above is what it looks like when the 0-5 Detroit Pistons attempt to play defense. Yep, that's JaVale McGee taking the ball from the three-point line to the rim for an uncontested dunk. The Pistons somehow managed to out-JaVale JaVale. More »

Share Tweet

Dime Q&A: Roy Hibbert Talks About His Favorite Video Games, The Pacers & Funny Larry Bird Stories

dimemag.com

Nov 8, 2012

After his shootaround in Atlanta yesterday (a game the Pacers would go on to blow in the final minutes), we got up with former Georgetown Hoya, and current Indiana Pacers center, Roy Hibbert. He talked to us about how he came to play himself on Parks an…

Share Tweet

Indiana Pulls Off An Embarrassing Loss; The Lakers Lose Again & Are In Serious Trouble

dimemag.com

Nov 8, 2012

We don't often lead Smack with the Pacers, but what transpired in Atlanta last night was too depressing not to. We found out yesterday morning that Danny Granger is now going to miss three months of action, and for Indiana, that's a major loss. It sho

Share Tweet

Joakim Noah On Bulls' Loss

Nov 8

Joakim Noah talks after the Bulls' loss to the Thunder.

TrueHoop TV: John Hollinger

Nov 8

TrueHoop's Henry Abbott with John Hollinger on Dwight Howard, Deron Williams and the struggles of L.A. and Brooklyn. Plus, a look a the Mavs, the Pacers and who will win the NBA scoring title.

Big 4th Quarter Lifts Thunder Past Bulls

Nov 8

Kevin Durant leads Thunder to win over Bulls.