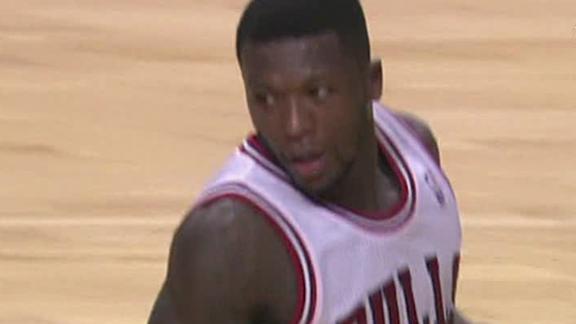 MILWAUKEE (AP) Struggling from the field and in danger of losing for the second straight night, the Boston Celtics turned to their two veteran leaders to save them.

Share Tweet

CHICAGO (AP) With the Chicago Bulls missing star Derrick Rose and two starters going without a basket, the team's revamped bench came through just like the old version did so many times over the last couple of years.

Share Tweet

HOUSTON (AP) James Harden scored 20 points, Omer Asik had 14 and the Houston Rockets beat the winless Detroit Pistons 96-82 on Saturday night in their first game without coach Kevin McHale.

Share Tweet

INDIANAPOLIS (AP) Paul George scored 20 points and the Indiana Pacers beat the winless Washington Wizards 89-85 on Saturday night.

Share Tweet

ESPN.com

Nov 10, 2012

Minnesota Timberwolves guard Brandon Roy will not play against the Chicago Bulls on Saturday and is considered day to day due to a sore right knee, according to Timberwolves coach Rick Adelman.

Share Tweet

nba.com

Nov 10, 2012

The Los Angeles Lakers plan to speak with former Knicks and Suns head coach Mike D'Antoni and former Lakers, Blazers, Bucks and Clippers head coach Mike Dunleavy about their head coaching job in the coming days, according to a league source.

Share Tweet

nytimes.com

Nov 10, 2012

The weekend notebook includes items on comic books inspired by the Brooklyn Nets, the second chapter of the Uncle Drew story, and a look at coaches who may be on the hot seat.

Share Tweet

PHOENIX (AP) Trailing by 26 points after only 14-plus minutes, Shannon Brown and the Phoenix Suns weren't about to give up.

Share Tweet

nba.com

Nov 10, 2012

THE FACTS: Thunder forward Serge Ibaka set a career high with 25 points and Kevin Durant scored a season-high 27 to go along with 13 rebounds as Oklahoma City grinded out a 105-94 win over the winless Detroit Pistons.

Share Tweet

Harden, Rockets Send Pistons To 0-7

Nov 10

James Harden scores 20 in Rockets' 96-82 win over Pistons.