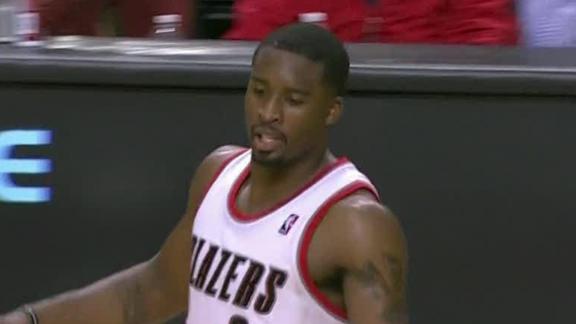 Blazers beat back Bulls for third straight victory
ESPN.com
Updated Nov 18, 2012
Wesley Matthews and Nicolas Batum scored 21 points apiece and the Portland Trail Blazers beat the Chicago Bulls 102-94 on Sunday night for their first three-game winning streak since the beginning of last season.
Share
Tweet
Pistons trounce Celtics for first home victory

Greg Monroe had 20 points and 13 rebounds to lead the Detroit Pistons to their first home win of the season, 103-83 over the Boston Celtics on Sunday night.

Share Tweet

Turner, Sixers hand Cavaliers sixth straight loss

Evan Turner had 19 points and nine assists to lead the Philadelphia 76ers over the reeling Cleveland Cavaliers 86-79 Sunday night.

Share Tweet

Carmelo Anthony had 26 points and nine rebounds, and the New York Knicks bounced back from their first loss of the season, beating the Indiana Pacers 88-76 on Sunday.

Share Tweet

Scalped Wes Anderson Character Is Playing Point Guard For The Knicks

deadspin.com

Nov 18, 2012

The Knicks are playing the Pacers this afternoon at Madison Square Garden. As of this writing, the Knicks had a 16-point lead halfway through the third quarter. Sadly, Jason Kidd suffered a head injury and was replaced by what appears to be a scalped Bo…

Share Tweet

Griffin powers Clippers to 5th straight victory

Blake Griffin scored 12 of his 26 points in the final six minutes and grabbed 10 rebounds, helping the Los Angeles Clippers rout the Chicago Bulls 101-80 on Saturday night for their fifth straight victory.

Share Tweet

76ers Down Cavaliers

Nov 18

The Cavaliers dropped their sixth straight game after losing to the 76ers 86-79.

Knicks Bounce Back With A Win

Nov 18

Carmelo Anthony scored 26 points and the Knicks beat the Pacers 88-76.

Matthews Powers Trail Blazers

Nov 18

Wesley Matthews and Nicolas Batum scored 21 points apiece to fuel the Trail Blazers.