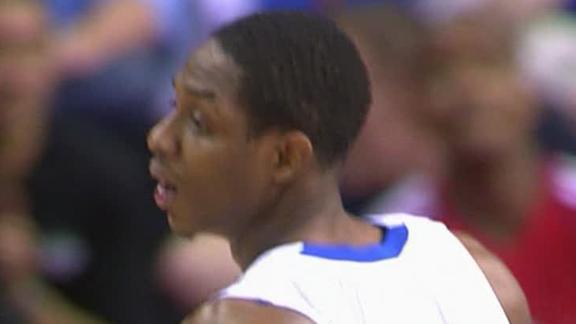 Updated Nov 26, 2012
Share
Tweet
Brandon Knight scored 16 of his 26 points in the first half, outplaying Damian Lillard in a matchup of young guards and leading the Detroit Pistons to a 108-101 victory over the Portland Trail Blazers on Monday night.
Source:
ESPN.com
Updated Nov 26, 2012

Share Tweet

Memphis Grizzlies point guard Mike Conley sat out Monday night's game against the Cleveland Cavaliers because of flu-like symptoms.

Updated Nov 26, 2012

Share Tweet

Drew Gooden offered tickets via Twitter to Monday's game against the Bulls at the United Center to any of his followers who sent him him a twit pic of a Bulls jersey in a toilet, and the winner sent in a shot of a submerged Kirk Hinrich jersey.

Source:

ESPN.com

Omri Casspi fears for family members' lives amid Israel-Palestine rocket attacks

Updated Nov 26, 2012

Share Tweet

To the extent that Omri Casspi's NBA career has been at all noteworthy, it's been due much more to his nationality than his on-court production. While he hasn't been much to write home about through three years with the Sacramento Kings and Cleveland Ca…

Source:

yahoo.com

Brandon Jennings and Larry Sanders: Milwaukee's Yin and Yang

Updated Nov 26, 2012

Share Tweet

The Milwaukee Bucks are a young team that was on the brink of the playoffs last season before falling apart in the stretch run, losing seven of the Bucks' last 10 games. This year, they've again started strong, opening the season at 6-2, before losing

Source:

dimemag.com

Major Question Marks Need Answers With The Boston Celtics

Updated Nov 26, 2012

Share Tweet

The Boston Celtics are the best mediocre team in the NBA. Certainly they don't intend to hold that distinction come season's end but right now that's about the best they can muster. It's hard to fathom how this team can lose by 20 to the Pistons a

Source:

dimemag.com

Who got shook worse: Tony Parker or Paul Pierce? (VIDEOS)

Updated Nov 26, 2012

Share Tweet

Exhibit A, from the San Antonio Spurs' visit to Indianapolis to take on the Indiana Pacers on Friday night, courtesy of Indy reserve Lance Stephenson: And Exhibit B, from the Boston Celtics' trip to Central Florida to square off against the Orlando Magi…

Source:

yahoo.com

Grizzlies Claw Past Cavs, 84-78

Nov 26

Marc Gasol and Zach Randolph lead Grizzlies past Cavs.

Pistons Hand Blazers Second Straight Loss

Nov 26

Brandon Knight leads Pistons past Blazers.

Trick Shots From Kyle Singler

Nov 26

Pistons F Kyle Singler makes trick shots around Detroit.

THTV: The Potato Incident

Nov 26

TrueHoop's Henry Abbott with CSKA Moscow assistant, and former Lakers assistant, Quin Snyder on how a team building exercise involving potatoes went terribly wrong.