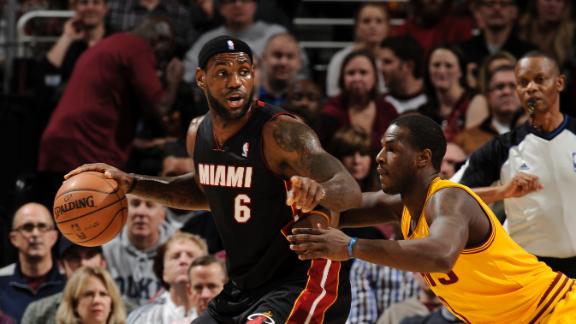 ESPN.com
Updated Nov 27, 2013
LeBron James scored 28 points and seemed more relaxed than in previous games back in Cleveland, leading the Miami Heat to their eighth straight win, 95-84 over the Cavaliers on Wednesday night.
Share
Tweet
Watson's late barrage guides Pacers to 14-1

C.J. Watson knocked down five 3-pointers in the fourth quarter and finished with 18 points to pace the Indiana Pacers to their fifth straight victory, a 99-74 win over the Charlotte Bobcats on Wednesday night.

Share Tweet

Chicago may be looking to re-arrange its roster, but the team's options are limited

yahoo.com

Nov 27, 2013

It's very possible the Chicago Bulls are lighting up the phone lines right now. It's very possible the team is either trying to make some sort of season-saving, shot in the arm-type move in order to right its recent four-game losing streak, or blow thin…

Share Tweet

With the Heat visiting Cleveland, we look to LeBron's future decision.

Share Tweet

Sources: Cavs talk Waiters with Knicks, others

The Cleveland Cavaliers are actively shopping second-year shooting guard Dion Waiters, according to sources with knowledge of the situation.

Share Tweet

Charlotte Bobcats' Cody Zeller: What it's like being an NBA rookie

CNNSI.com

Nov 27, 2013

The biggest challenge moving from college to the NBA? There's never an easy night against subpar players.

Share Tweet

CNNSI.com

Nov 27, 2013

MILWAUKEE (AP) -- The Milwaukee Bucks say their new court is ready to make its regular-season debut Wednesday night against Washington.

Share Tweet

Rose's Knee Problems

Nov 27

Prim Siripipat and Stephania Bell take a closer look at Derrick Rose's knee injury.

LeBron With Steal And Jam Vs. Cavaliers

Nov 27

LeBron's steal and huge jam leads Heat to halftime lead vs Cavs

LeBron Throws It Down In Cleveland

Nov 27

LeBron James with a big dunk as he returns to Cleveland

LeBron James Goes Home

Nov 27

Chris Broussard discusses the type of fan reception Heat F LeBron James will receive Wednesday night in Cleveland. Broussard also talks about whether Cavaliers fans think James will return to the team in the future.