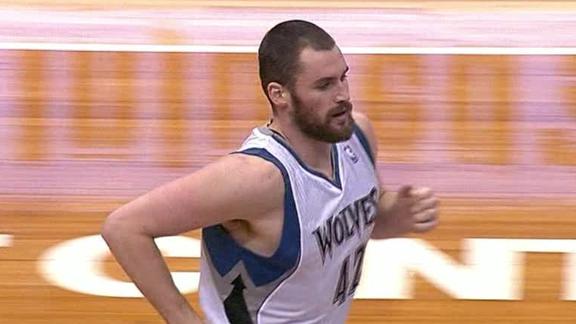 Love overcomes virus to lead Wolves by Bucks
Updated Nov 30, 2012
Share
Tweet
Alexey Shved scored 10 of his 16 points in the fourth quarter and Kevin Love overcame a nasty stomach bug to collect 15 points and 14 rebounds in the Minnesota Timberwolves' 95-85 victory over the Milwaukee Bucks on Friday night.
Source:
ESPN.com
Updated Nov 30, 2012

Share Tweet

Alonzo Gee scored on a putback with less than 1 second remaining, lifting the Cleveland Cavaliers to a 113-111 victory over the Atlanta Hawks on Friday night that snapped a four-game losing streak.

Source:

ESPN.com

What Might the Lakers Get by Trading Gasol?

Updated Nov 30, 2012

Share Tweet

The Lakers should have plenty of appealing options for trading partners if they decide to move Pau Gasol.

Source:

nytimes.com

Updated Nov 30, 2012

Share Tweet

One week ago, we shared a picture of members of the six-time champion (and two-time defending best record in the NBA-holding) Chicago Bulls posing with Sir Paul McCartney, a Member of the Most Excellent Order of the British Empire and possibly the most …

Source:

yahoo.com

Cavs Snap Hawks' Six-Game Win Streak

Nov 30

Cavs sneak past Hawks, 113-111.

Love Leads Wolves Past Bucks

Nov 30

Kevin Love overcomes stomach bug to post another double-double and lead Wolves to 95-85 win over Bucks.

David West Lifts Pacers Past Kings

Nov 30

David West drops a double-double on the Kings.

Grizzlies Win, Improve To 11-2

Nov 30

Grizzlies win fourth straight.

Sports Columnists

Adande: Point taken -- November games count, too

Nov 30

Antawn Jamison and Jodie Meeks spark Lakers off bench as offense clicks.

Ian Thomsen: Early concerns pile up for Celtics

Nov 30

BOSTON -- It's too early to say the Celtics are in a crisis. But they are at a crossroads.