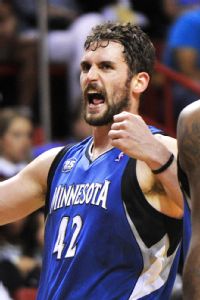 Minnesota Timberwolves talking Kevin Love trade only with Cleveland Cavaliers
ESPN.com
Updated 6 hours ago
The Minnesota Timberwolves were engaged in serious Kevin Love trade talks with no teams other than the Cleveland Cavaliers on Wednesday, adding to the growing belief around the NBA that Love teaming up with LeBron James is inevitable, according to sourc…
Upvote
Share
Tweet
Paul George: "I'm A Big Fan Of Damian [Lillard]"

dimemag.com

10 hours ago

Detractors of the NBA point to a lack of rivalries and friendly relationships between opposing players as reason why today's game pales in comparison to that of the past's. The latter point is especially justifiable; the question is whether or not that …

Upvote Share Tweet

Dime Q&A: Zach LaVine On Dunking, Kevin Love, Draft Night, And More

dimemag.com

14 hours ago

Zach LaVine is quickly becoming the most exciting player of this year's NBA draft class. Born in Renton, Washington, LaVine made his inaugural appearance at the Seattle Pro-Am All-Star Game this weekend, where his interplanetary athleticism was on full …

Upvote Share Tweet

Hayward On Max Contract: "I Don't Think I have To Live Up To Anything Now"

dimemag.com

16 hours ago

Gordon Hayward signed a four-year, $63 million offer sheet with the Charlotte Hornets this off-season. The Utah Jazz matched the offer and will be bringing Hayward back on a maximum-level contract. Yesterday, Hayward spoke about the new reality of being…

Upvote Share Tweet

Kevin Durant Hinting At Wizards Shows Irony Of CBA

dimemag.com

19 hours ago

Kevin Durant applauded LeBron James' decision to return to the Cavaliers when speaking to ESPN's Ramona Shelburne during Team USA tryouts in Vegas yesterday. He also said some nice things about returning to play in his hometown when his Thunder face the…

Upvote Share Tweet

Veteran guard Mo Williams is signing with the Minnesota Timberwolves, his representatives announced.

Upvote Share Tweet

adidas Unveils Crazylight Boost (Pics)

dimemag.com

Jul 28 (3 days ago)

LAS VEGAS — As part of the adidas Boost innovation unveiling yesterday, which included the newest addition to the Derrick Rose line, the adidas D Rose 5 Boost, Blazers all-star Damian Lillard stopped by to introduce the boost addition to the Crazylight …

Upvote Share Tweet

Minnesota Timberwolves explore acquiring Philadelphia 76ers PF Thaddeus Young as potential replacement for Kevin Love

ESPN.com

Jul 28 (3 days ago)

The Minnesota Timberwolves have expressed interest in Philadelphia 76ers power forward Thaddeus Young as a potential replacement for Kevin Love, according to sources close to the situation.

Upvote Share Tweet

dimemag.com yahoo.com

Jul 28 (3 days ago)

Two weeks ago, we wondered who would win a dunk contest featuring a dream field of crazy-athletic rookies Andrew Wiggins, Aaron Goron, and Zach LaVine. Though Wiggins and Gordon have done nothing in the interim to dissuade us from believing they're wort…

Upvote Share Tweet

dimemag.com nba.com

Jul 26 (5 days ago)

Barely 24 hours after losing Blake Griffin comes news that USA Basketball will be playing in the FIBA World Cup without Kevin Love, too. The stranded Minnesota Timberwolves superstar withdrew from consideration for Team USA today "because of his current…

Upvote Share Tweet

yahoo.com

Jul 25 (6 days ago)

It's been kind of a while since we've caught up with JaVale McGee; that can happen when a player's been sidelined for nearly nine months after suffering what wound up being a season-ending stress fracture in his left leg. So what has the Denver Nuggets …

Upvote Share Tweet

yahoo.com

Jul 25 (6 days ago)

By most accounts, Minnesota Timberwolves part-owner/president/head coach/lead sandwich artist Flip Saunders has finally come to the conclusion that he won't be able to convince Kevin Love to stay in town. That one year of Flip on the pine and a possible…

Upvote Share Tweet

dimemag.com ESPN.com

Jul 25 (6 days ago)

The Kevin Love sweepstakes rumbles on with just a scant 200-plus days until the 2015 NBA trade deadline means the 'Wolves likely lose him in free agency next summer. While the Cavs have officially signed Andrew Wiggins, necessitating a 30-day waiting pe…

Upvote Share Tweet

Report: Bulls Are Loyal To Nikola Mirotic

dimemag.com

Jul 25 (6 days ago)

The Minnesota Timberwolves reportedly prefer the Chicago Bulls' potential trade package of Taj Gibson, Doug McDermott, and Nikola Mirotic for stranded superstar Kevin Love. One small problem for the 'Wolves: Chicago might not actually offer it. Accordin…

Upvote Share Tweet

Dale Schlueter, a member of the Portland Trail Blazers for their inaugural 1970-71 season, died Thursday after battling cancer. He was 68.

Upvote Share Tweet

yahoo.com

Jul 24 (6 days ago)

When the Oklahoma City Thunder selected forward Josh Huestis with the 29th overall pick in June's draft, the selection struck most analysts as a bit of a reach. The Stanford senior had projected as a mid-second-rounder, if drafted and all, and figured t…

Upvote Share Tweet

yahoo.com

Jul 24 (7 days ago)

It's an open secret the Cleveland Cavaliers and Minnesota Timberwolves are currently discussing a deal that would send some Kevin Love to Cleveland and some combination of the last two top overall NBA draft picks to Minnesota. There are many issues to c…

Upvote Share Tweet

Report: Celtics "Moving On" From Love Sweepstakes

Boston Celtics owner Wyc Grousbeck recently said that he'd hoped the team would make a bigger splash this offseason, seemingly suggesting Boston was out of the running for Kevin Love. Just two days later, the Celtics' quest to acquire the Minnesota Timb…

Upvote Share Tweet

Report: Bulls Offering Gibson, McDermott, Mirotic to 'Wolves For Love

Terms of the Chicago Bulls' trade offer to the Minnesota Timberwolves for Kevin Love have emerged. According to Chris Sheridan of Sheridan Hoops, the Bulls are willing to surrender Taj Gibson and rookies Doug McDermott and Nikola Mirotic if it nets them…

Upvote Share Tweet

Last night, Cleveland traded Carrick Felix, a 2015 second-round pick and cash considerations to the Utah Jazz in exchange for John Lucas III, Malcolm Thomas and Erik Murphy. The actual players changing teams in the deal aren't that significant, it's the…

Upvote Share Tweet

Kevin Durant Focused On OKC, Not D.C.

Jul 30

Kevin Durant talks to Darren Rovell about speculation that he would consider signing with the Wizards in two years when he becomes a free agent.

Kevin Love Is Really Good

Jul 29

Judging him by Minnesota's Win-Loss record is a giant mistake, explains David Thorpe.

KD Approves LBJ's Move

Jul 29

ESPN.com senior writer Ramona Shelburne discusses Kevin Durant's comments about LeBron James returning to Cleveland and Durant's own future.

Love Off Team USA

Jul 26

Marc Stein breaks down the reasons behind Kevin Love withdrawing from playing with Team USA ahead of the FIBA World Cup and the latest from teams making bids for Love.