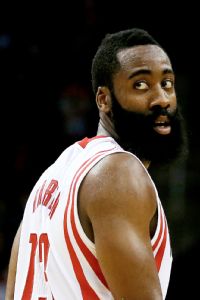 SI Now: Can Durant, Thunder escape Grizzlies?

CNNSI.com

3 hours ago

Will Kevin Durant and the Thunder survive their first-round matchup with the pesky Grizzlies?

Upvote Share Tweet

Flip Saunders is a former coach himself, so he knows how coveted a head coaching job in the NBA can be.

Upvote Share Tweet

yahoo.com

Apr 22 (yesterday)

A look around the league and the Web that covers it. It's also important to note that the rotation order and starting nods aren't always listed in order of importance. That's for you, dear reader, to figure out. C: Bleacher Report, SB Nation, Deadspin, …

Upvote Share Tweet

If you're an Oklahoma City Thunder fan bummed out about Monday's furious late-game comeback falling short and the Memphis Grizzlies holding on for a 111-105 overtime win in Game 2 that knotted their best-of-seven first-round series at one game apiece, t…

Upvote Share Tweet

ESPN.com

Apr 22 (yesterday)

After losing on his home court in Game 1, Dwight Howard has a thought as to how the Houston Rockets can turn the tables on LaMarcus Aldridge and the Portland Trail Blazers in their opening-round playoff series.

Upvote Share Tweet

Kendrick Perkins Forces OT With Buzzer-Beater, But Grizzlies Still Tie Series 1-1

dimemag.com

Apr 22 (yesterday)

Game 2 between the Memphis Grizzlies and the Oklahoma City Thunder turned out to be a thrilling spectacle of basketball. The game went back and forth and proved that playoff basketball is nothing but pure entertainment. With the score at 99-97 in favor …

Upvote Share Tweet

Kevin Durant's Impossible Falling Out of Bounds 3-Pointer Plus The Foul

dimemag.com

Apr 21 (yesterday)

We're pretty sure cardiac arrest is the only possible by-product of the helter-skelter Game 2 between the Grizzlies and Thunder. The Thunder were down five with less than 20 seconds left and most fans believed this series would shortly be tied 1-1. But …

Upvote Share Tweet

Head coach Tyrone Corbin won't be returning for another season with the Utah Jazz.

Upvote Share Tweet

Serge Ibaka Blocks Ed Davis Then Wags His Finger

dimemag.com

Apr 21 (yesterday)

The ol' Dikembe Mutombo finger wag after a big block would get T'd up in the contemporary NBA for taunting. But that didn't stop Serge Ibaka from channeling his inner Mutombo after a huge recovery block on Ed Davis in the first half Monday night. Except…

Upvote Share Tweet

NBA admits error on overtime foul that knocked Dwight Howard out of Rockets-Blazers Game 1 (Video)

yahoo.com

Apr 21 (2 days ago)

Good news, Houston Rockets fans: If you thought that the referees botched the foul call that knocked Dwight Howard out of Game 1 against the Portland Trail Blazers late in overtime on Sunday, it turns out you were right! There is, however, some bad news…

Upvote Share Tweet

NBA: Officials missed foul call in Blazers-Rockets game

nba.com

Apr 21 (2 days ago)

Rod Thorn, NBA President, Basketball Operations, issued the following statement Monday regarding a play late in the fourth quarter of the Portland Trail Blazers' 122-120 win over the Houston Rockets on April 20, at Toyota Center:

Upvote Share Tweet

ESPN.com dimemag.com

Apr 21 (2 days ago)

Rockets point guard Patrick Beverley woke up on Monday morning and already knew what the team doctors would tell him hours later: He was going to play in Game 2 on Wednesday.

Upvote Share Tweet

Shaq Calls Robin Lopez "BBQ Chicken" Before Barkley Calls Shaq "Overrated"

dimemag.com

Apr 21 (2 days ago)

The crew on TNT's Emmy-winning "Inside the NBA" got heated last night after the soon-to-be epic Game 1 between the Blazers and Rockets. Shaq started things off by again criticizing Dwight Howard for not taking more advantage of Robin Lopez, the latter o…

Upvote Share Tweet

It will come as no surprise that Rick Adelman stepped down as Minnesota Timberwolves coach on Monday, the longtime successful NBA sideline stalker was rumored to be considering a move along those lines last season, and the wear of losing seasons and ina…

Upvote Share Tweet

10 Players Under The Most Pressure In The Playoffs

dimemag.com

Apr 21 (2 days ago)

Just over two years ago, had you asked me whom I considered to be the NBA's elite players, I would have given you three names: Dirk Nowitzki, Kobe Bryant and Dwyane Wade. Fresh off an NBA Finals run in which his Mavericks took down Kobe's Los Angeles La…

Upvote Share Tweet

dimemag.com CNNSI.com ESPN.com

Apr 21 (2 days ago)

The Blazers won a humdinger of a final game during the opening weekend of the 2014 NBA Playoffs. LaMarcus Aldridge scored a Blazers playoff franchise record 46 points in Portland's 122-120 overtime win in Game 1 of their first round series against the f…

Upvote Share Tweet

Dwight Howard on the Post

Apr 23

Amin Elhassan joins us to talk about how good Dwight Howard is at posting up, and how often he should.

Saunders On Timberwolves' Coaching Job

Apr 23

Flip Saunders talks to "Mike & Mike" about the rumors that he might return to the Timberwolves' bench after the retirement of Rick Adelman.

Scott Brooks' Job In Jeopardy?

Apr 22

Stephen A. Smith discusses the job security of Thunder coach Scott Brooks.

Corbin Out As Jazz Head Coach

Apr 21

Amin Elhassan discusses why the Utah Jazz decided not to offer Tyrone Corbin a new contract.