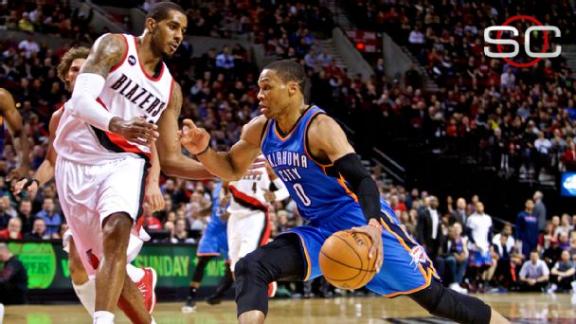 nba.com
ESPN.com
deadspin.com
yahoo.com
Updated 13 hours ago
Oklahoma City Thunder guard Russell Westbrook underwent a successful procedure today to address a fracture to the zygomatic arch of his right cheek, Thunder Executive Vice President and General Manager Sam Presti announced.
Upvote
Share
Tweet
Garnett ejected in 3rd quarter after 2nd technical foul

nba.com

8 hours ago

Kevin Garnett was ejected from the Minnesota Timberwolves' game against Memphis on Saturday night in the third quarter after picking up his second technical foul.

Upvote Share Tweet

nba.com

11 hours ago

Oklahoma City's Russell Westbrook had surgery to repair a fracture to his right cheek Saturday and the NBA's hottest player will miss at least a game.

Upvote Share Tweet

ESPN.com

Feb 27 (yesterday)

The Chicago Bulls got a positive update on Derrick Rose and then used another big night by Jimmy Butler to beat the Minnesota Timberwolves 96-89 on Friday.

Upvote Share Tweet

Thunder's Kanter (thigh) to miss game against Blazers

nba.com

Feb 27 (yesterday)

Oklahoma City center Enes Kanter was not in the lineup Friday night against the Trail Blazers because of a right thigh contusion.

Upvote Share Tweet

Timberwolves' Garnett to rest against Bulls

nba.com

Feb 27 (yesterday)

Minnesota coach Flip Saunders says he plans to rest Kevin Garnett for the Timberwolves' game against the Chicago Bulls.

Upvote Share Tweet

yahoo.com

Feb 27 (2 days ago)

The NBA is full of amazing lead guards, but perhaps no two are as active as Russell Westbrook of the Oklahoma City Thunder and Eric Bledsoe of the Phoenix Suns. Even when they're not at their best, these two players simply make things happen at both end…

Upvote Share Tweet

Spurs' skid to 4 as Matthews propels Blazers

ESPN.com

Feb 26 (3 days ago)

\Wesley Matthews scored 31 points, LaMarcus Aldridge had 11 points and 13 rebounds, and the Trail Blazers beat the slumping Spurs 111-95 on Wednesday night for their first victory since the All-Star break.

Upvote Share Tweet

deadspin.com yahoo.com

Feb 26 (3 days ago)

Usually Nuggets rookie Jusuf Nurkic is being conventionally disrespectful, talking shit to Marc Gasol after swatting his shot or taunting DeMarcus Cousins all the way down the court after hitting a jumper in his face. But tonight he stepped up his subtl…

Upvote Share Tweet

ESPN.com deadspin.com yahoo.com

Feb 25 (3 days ago)

Kevin Garnett a winner in emotional return to Wolves

Upvote Share Tweet

The Denver Nuggets are without banged-up forwards Kenneth Faried and Wilson Chandler on Wednesday night against the Phoenix Suns.

Upvote Share Tweet

Pierce ruled out with bruised knee against Wolves

nba.com

Feb 25 (3 days ago)

Washington Wizards forward Paul Pierce was a late scratch Wednesday night against the Minnesota Timberwolves because of a bruised knee.

Upvote Share Tweet

NBPA head Michele Roberts to loitering media: 'If you don't have a [bleeping] question, leave'

yahoo.com

Feb 25 (3 days ago)

After years of dealing with questions surrounding his future in Oklahoma City, ridiculous queries about his supposedly antagonistic relationships with either Russell Westbrook or Thunder coach Scott Brooks, comparisons to Greg Oden, Carmelo Anthony, and…

Upvote Share Tweet

yahoo.com

Feb 25 (4 days ago)

If you spend any time perusing NBA Twitter, you've probably seen a meme taken from Kevin Durant's MVP speech last spring in which his Oklahoma City Thunder teammate Russell Westbrook stares at the trophy intently from his seat. The idea is that Westbroo…

Upvote Share Tweet

Grizzlies Edge Timberwolves

Feb 28

Marc Gasol tallied 27 points and 11 rebounds, and Mike Conley knocked down a go-ahead 3-pointer in the final minute to help the Grizzlies beat the Timberwolves 101-97.

Jazz Topple Visiting Bucks

Feb 28

Derrick Favors had 16 points and 12 rebounds as the Jazz defeated the Bucks 82-75.

Bulls Fend Off Timberwolves

Feb 27

Jimmy Butler had 28 points and 12 rebounds in the Bulls' 96-89 victory over the Timberwolves.

Friday's Pro Basketball Picks

Feb 27

ESPN Chalk's Erin Rynning takes a look at Friday's Miami-New Orleans and Oklahoma City-Portland matchups.