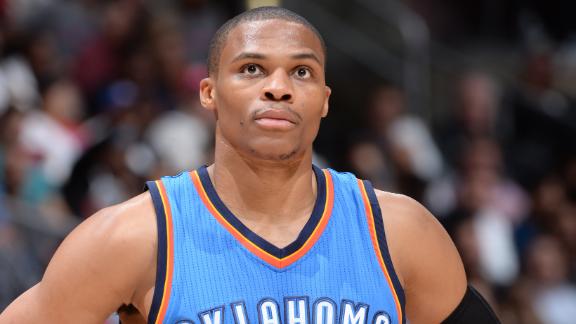 ESPN.com
dimemag.com
nba.com
Updated 1 hour ago
The Thunder say point guard Russell Westbrook will return to action Friday night against the New York Knicks.
Upvote
Share
Tweet
ESPN.com

Nov 27 (yesterday)

The New York Knicks have listed forward Carmelo Anthony as doubtful for Friday's game due to back spasms.

Upvote Share Tweet

dimemag.com yahoo.com

Nov 27 (yesterday)

While both Andrew Wiggins and Jabari Parker have shown flashes of the brilliance that made them Nos. 1 and 2 in the 2014 NBA Draft, last night's first meeting between the two, when the Bucks traveled to Minnesota, didn't exactly set the world on fire. S…

Upvote Share Tweet

With their hardship exception expiring, the Oklahoma City Thunder released point guard Sebastian Telfair to reduce the roster to the required 15-player maximum.

Upvote Share Tweet

Matthews guides Blazers to 9th straight win

ESPN.com

Nov 26 (yesterday)

Wesley Matthews scored a season-high 28 points, and the Portland Trail Blazers defeated the Charlotte Hornets 105-97 on Wednesday night for their ninth consecutive victory.

Upvote Share Tweet

yahoo.com

Nov 26 (yesterday)

The Minnesota Timberwolves welcomed Thaddeus Young back to the lineup for Wednesday's game against the visiting Milwaukee Bucks after the starting power forward had missed five games to be with and later mourn his mother, Lulu Hall, who died Nov. 13 aft…

Upvote Share Tweet

dimemag.com

Nov 26 (yesterday)

Giannis Antetokounmpo to Jabari Parker is becoming a trend. A night after teaming up for a statue of liberty pass and lefty slam, Milwaukee's young Bucks were at it again versus the Minnesota Timberwolves. Watch The Greek Freak draw defenders after spin…

Upvote Share Tweet

yahoo.com

Nov 26 (yesterday)

Many of us noticed this last night, but we'd forgotten about it until Uproxx reminded us. Perhaps we were affected by the second hand smoke of a Chicago Bulls fan that clearly appears to be vaping some sort of smokable substance during Tuesday night's B…

Upvote Share Tweet

Dime Q&A: Steven Adams On Guarding Big Al & Z-Bo, Life Without KD & Russ, And More

dimemag.com

Nov 26 (yesterday)

When the Thunder traded James Harden to the Rockets, it seemed like the team got absolutely nothing in return. Kevin Martin wasn't able to replace Harden's production and Jeremy Lamb never developed into the dangerous offensive weapon the Thunder had ho…

Upvote Share Tweet

dimemag.com

Nov 26 (2 days ago)

Just 24 hours after stressing the need to stay on the floor, Derrick Rose left it for good late in the second quarter of the Chicago Bulls' loss to the Denver Nuggets. Both Rose and Tom Thibodeau said that the former MVP's second half absence was merely…

Upvote Share Tweet

Kenneth Faried's Dunk Revealed The Demon Living Inside Nate Robinson

deadspin.com

Nov 26 (2 days ago)

Kenneth Faried threw down a dunk during last night's game between the Nuggets and Bulls. It was a fine dunk, but backup point guard Nate Robinson thought it was a really great dunk, so much so that he briefly lost his wits while celebrating and revealed…

Upvote Share Tweet

GIF: Danilo Gallinari's "Bella" Circus Shot That Didn't Count

dimemag.com

Nov 26 (2 days ago)

With a little over two minutes remaining in the Bulls-Nuggets game in Denver last night, Danilo Gallinari was pinned along the far sideline with the shot clock running down. His miracle heave beyond the three-point line fell true as the shot clock buzze…

Upvote Share Tweet

yahoo.com

Nov 26 (3 days ago)

The Denver Nuggets have hit upon a sparkling run of form after opening the season as one of the NBA's most inconsistent. After a 2-7 start, the Nuggets entered Tuesday night's home again against the Chicago Bulls sporting a four-game winning streak and …

Upvote Share Tweet

Russell Westbrook Happy To Be Back

Nov 28

Thunder guard Russell Westbrook discusses his return to the lineup tonight when Oklahoma City takes on the New York Knicks.

SC Not Top Plays

Nov 28

"SportsCenter" presents this week's worst plays in sports.

Blazers Win Ninth Straight

Nov 26

Wesley Matthews and Damian Lillard combined for 50 points to help pace the Blazers to a 105-97 win against the Hornets.

Andrew Wiggins' Special Start

Nov 25

David Thorpe can't remember an NBA rookie who combined Wiggins' off-the-charts athleticism with such capable 3-point shooting.