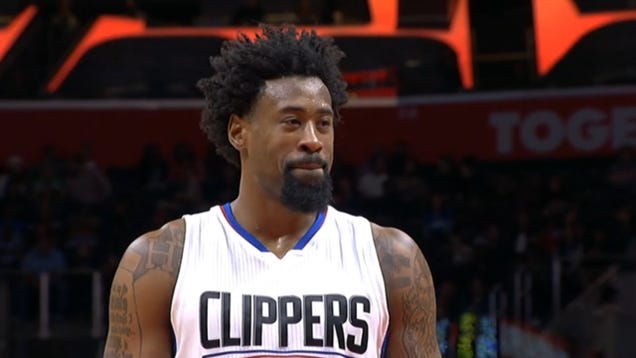 Watch DeAndre Jordan Miss 22 Free Throws In One Game
deadspin.com
Updated 7 hours ago
Clippers center DeAndre Jordan made a bit of NBA history last night, tying the record for most missed free throws in a game. While getting maimed by the Trail Blazers' hack-a-Jordan strategy, Jordan bricked 22 freebies.Read more...
Share
Tweet
yahoo.com

17 hours ago

It would have been very easy for the Golden State Warriors to drop their first game of the season in Monday's visit to the Utah Jazz. The slow-paced Jazz controlled tempo and generally played the style they prefer, trailing by double digits for all of 1…

Share Tweet

ESPN.com

21 hours ago

Blazers' Lillard, Clips' Paul exit with injuries

Share Tweet

Wolves' Rubio expects to play Tuesday vs. Magic

nba.com

Nov 30 (yesterday)

Minnesota Timberwolves coach Sam Mitchell says he expects point guard Ricky Rubio to return from a two-game absence on Tuesday night against Orlando.

Share Tweet

Durant, George named Players of the Week

nba.com

Nov 30 (yesterday)

The Indiana Pacers' Paul George and the Oklahoma City Thunder's Kevin Durant were today named NBA Eastern and Western Conference Players of the Week, respectively, for games played Monday, Nov. 23 through Sunday, Nov. 29.

Share Tweet

Russell Westbrook On Former Teammate Reggie Jackson: "Who?"

deadspin.com

Nov 28 (3 days ago)

Reggie Jackson left the Oklahoma City Thunder under contentious circumstances last season. He wanted the minutes and opportunities of a starting player, so he was not the ideal player to back up Russell Westbrook, and it really harmed the Thunder's chem…

Share Tweet

deadspin.com

Nov 25 (6 days ago)

ESPN's Jackie MacMullan wrote an awesome story about Kevin Garnett, who at 39 years old has been called on by the Minnesota Timberwolves to mentor the team's crop of talented young players in his famously intense style. The story is great because it goe…

Share Tweet

Blake Griffin And Nuggets Coach Mike Malone Got Into It Over "Hack-A-DJ" Strategy

deadspin.com

Nov 25 (6 days ago)

It's not often we see a coach being held back by his team from going after an opposing player, but things got chippy in the fourth quarter of the Clippers' 111-94 win in Denver. The scuffle—limited to a verbal one—was sparked by Griffin's displeasure wi…

Share Tweet

ESPN.com

Nov 24 (7 days ago)

Butler: Blazers' Plumlee should pay my fine for T

Share Tweet

yahoo.com

Nov 24 (7 days ago)

If, like me, you tend to focus more on the NBA game than it college counterpart, you might not have been especially familiar with Rondae Hollis-Jefferson before June, when the Portland Trail Blazers took him with the 23rd overall pick in the 2015 NBA dr…

Share Tweet

deadspin.com

Nov 23

Reader Chris caught this odd moment during today's Sixers-Timberwolves matchup, as late in the game a play demanded review from the NBA's replay center in Secaucus. The live camera shot from inside that center showed, strangely, the movie Animal House s…

Share Tweet

ESPN.com

Nov 23

Durant (hamstring) returns vs. Jazz; has 27 in win

Share Tweet

yahoo.com

Nov 23

After comfortably dispatching the Denver Nuggets on Sunday night to become the third NBA team ever to open a season with 15 consecutive wins, the Golden State Warriors will take aim at securing a solo spot in NBA history on Tuesday, when they return to …

Share Tweet

Timberwolves moving Martin into starting lineup

nba.com

Nov 22

Minnesota Timberwolves coach Sam Mitchell is inserting Kevin Martin into the starting lineup in hopes of jumpstarting a struggling offense.

Share Tweet

yahoo.com

Nov 19

The hamstring injury to Kevin Durant has placed a great deal of responsibility on Oklahoma City Thunder point guard Russell Westbrook. It's not as if he's unable to shoulder the load — Westbrook got plenty of experience doing so last season and put up u…

Share Tweet

Tony Parker leads Spurs past Nuggets with a dash of scoring

ESPN.com

Nov 19

Tony Parker leads Spurs past Nuggets with a dash of scoring

Share Tweet

yahoo.com deadspin.com

Nov 18

The young and exciting Minnesota Timberwolves have become darlings of the NBA over the season's first few weeks, making budding stars of Andrew Wiggins and Karl-Anthony Towns and playing with a passion that makes them very fun to watch. Wednesday's visi…

Share Tweet

yahoo.com

Nov 18

It takes a special performance to be the biggest story in a loss. What Miami Heat center Hassan Whiteside did Tuesday against the visiting Minnesota Timberwolves certainly qualifies. Whiteside blocked his 10th shot of the night with 2:04 remaining in th…

Share Tweet

nba.com

Nov 17

New Orleans forward Anthony Davis has left the court with a left shoulder injury and will not return in the Pelicans' game against the Denver Nuggets on Tuesday night.

Share Tweet

Nuggets' Chandler undergoes successful hip surgery

nba.com

Nov 17

Nuggets forward Wilson Chandler underwent successful surgery to repair a labral tear in his right hip, Nuggets General Manager and Executive Vice President Tim Connelly announced today.

Share Tweet

yahoo.com

Nov 17

The Denver Nuggets have historically been a very good home team, usually playing a fast pace that leaves teams exhausted at the high altitudes of the city and Pepsi Center. For that matter, Denver is one of only two NBA teams in the Mountain time zone, …

Share Tweet

yahoo.com

Nov 17

The Memphis Grizzlies and Oklahoma City Thunder have been natural rivals over the past few years due in large part to their clash of styles. The Memphis grit-and-grind approach and OKC high-scoring attack are easily cast as opposites, and the team able …

Share Tweet

The Healing Problems With Durant's Foot

Mar 20

Dr. Mark Adickes explains the issues with Kevin Durant's type of foot injury and how the pain continues to affect him even after surgery.

Is Durant Being Shut Down For The Season?

Mar 20

Amin Elhassan reacts to the news that Kevin Durant will be out indefinitely and figures to not see him the rest of the season.

Westbrook, Thunder Topple Hawks

Mar 20

Russell Westbrook recorded his ninth triple-double of the season and the Thunder defeated the Hawks 123-115.

Magic Stun Blazers

Mar 20

Victor Oladipo, Elfrid Payton and Nikola Vucevic each scored 22 points in the Magic's 111-104 win over the Blazers.