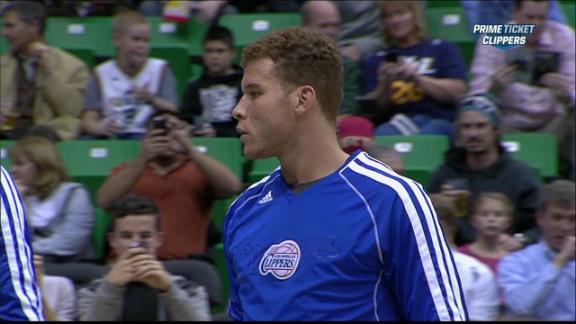 Blake Griffin scored 30 points, Jamal Crawford added 20 off the bench and the Clippers defeated Utah 105-104 on Monday night to hand the Jazz their first loss at home this season.
Share
Tweet
McGee, Nuggets withstand late Raptors rally

ESPN.com

Dec 3, 2012

Corey Brewer scored 19 points, JaVale McGee had 17 points and five blocks, and the Denver Nuggets withstood a late rally to beat the Toronto Raptors 113-110 on Monday night.

Share Tweet

Karl hit hard by friend Majerus' death

nba.com

Dec 3, 2012

Denver Nuggets coach George Karl said he is still having a tough time dealing with the death of his friend, former Utah and Saint Louis coach Rick Majerus.

Share Tweet

Kevin Love catches up with his father while wearing old man makeup, looks creepily like his old man (VIDEO)

Last month we alerted you to the ongoing cola ads featuring Cleveland Cavaliers star Kyrie Irving and Minnesota Timberwolves All-Star Kevin Love dressed up as sexagenarians, hustling a group of playground ballers along the way. Today, we bring you somet…

Share Tweet

Anthony, Durant named conference Players of the Week

nba.com

Dec 3, 2012

The New York Knicks' Carmelo Anthony and the Oklahoma City Thunder's Kevin Durant today were named Eastern and Western Conference Players of the Week, respectively, for games played Monday, Nov. 26, through Sunday, Dec. 2.

Share Tweet

Lil Wayne helps Detroit Pistons forward Jonas Jerebko outfit children attending his basketball camp

Ball Don't Lie launched a little attack on rapper Lil Wayne last spring when he, like Red Hot Chili Pepper bassist Flea, was denied the star treatment by the Oklahoma City Thunder. The recording artist didn't plan things out beforehand and expected to r…

Share Tweet

You guys aren't going to believe this, but getting one win didn't solve all of the Washington Wizards' issues. Following an 84-82 victory over the Portland Trail Blazers that gave the District dozen their first mark on the "W" side of the ledg…

Share Tweet

The 14 Strangest Fines, Ejections & Suspensions In NBA History

dimemag.com

Dec 3, 2012

Every year, NBA players, owners, coaches and general managers donate hundreds of thousands of dollars to charity. Not all of their philanthropy is voluntary. In the NBA, it's a fineable offense to wear a headband upside down, to publicly criticize an of

Share Tweet

Kobe Bryant, after Lakers lose to Magic: 'I'll kick everybody's ass in this locker room' if we don't fix things

The Los Angeles Lakers' Jekyll and Hyde act continued apace this weekend, with a Friday night blitzing (17 3-pointers, 54 percent shooting, a 28-and-20 performance by Dwight Howard and 122 points) of the Denver Nuggets giving way to a Sunday night stumb…

Share Tweet

Blazers Rally Past Bobcats For Win In OT

Dec 3

Blazers erase 18-point deficit and defeat Bobcats in OT, 118-112.

JaVale McGee Lift Off

Dec 3

JaVale McGee finishes the alleey-oop with the one-handed slam.

Clippers Fight Off Jazz For Third Straight Win

Dec 3

Blake Griffin scores a season-high 30 points in Clippers' 105-104 win over Jazz.