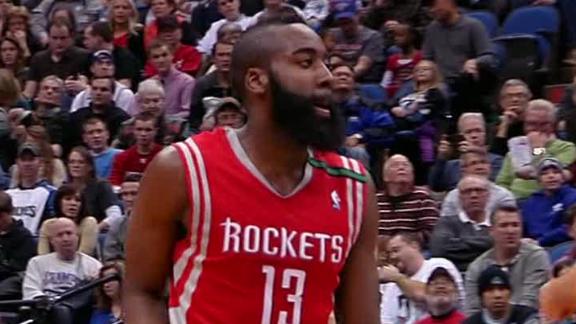 ESPN.com
Updated Dec 26, 2012
James Harden scored 17 of his 30 points in the fourth quarter, and the Houston Rockets rallied to win their fifth straight, 87-84 over the Minnesota Timberwolves on Wednesday night.
Share
Tweet
Timberwolves J.J. Barea explodes on the fast break into a nice spin move breaking through Rockets defender Toney Douglas and lays it in.

Share Tweet

Jeremy Lin Cashes in a Reverse Layup

Houston Rockets Jeremy Lin goes inside passed Minnesota Timberwolves defenders and cashes in a reverse layup.

Share Tweet

James Harden Sinks Tough Shot in Traffic

Houston Rockets' James Harden hustles his way to the hoop right through Minnesota Timberwolves defenders.

Share Tweet

dimemag.com CNNSI.com nba.com yahoo.com

Dec 26, 2012

Ricky Rubio shows off his ball handle as he moves down the court and gets the ball back in time to knock down an off balanced basket as the shot clock expired.

Share Tweet

CNNSI.com

Dec 26, 2012

MINNEAPOLIS (AP) -- The question seemed to catch Houston Rockets coach Kevin McHale totally off guard.

Share Tweet

Second-year forward Jordan Hamilton of the Denver Nuggets was fined $25,000 by the NBA on Wednesday because of a vulgar exchange with a fan during the team's 112-100 Christmas Day loss to the Los Angeles Clippers at the Staples Center.

Share Tweet

Report: Kings' Cousins held out against Blazers

ESPN.com

Dec 26, 2012

Sacramento Kings center DeMarcus Cousins did not travel with the team for Wednesday night's game against the Portland Trail Blazers, according to a report by the Sacramento Bee.

Share Tweet

Kendrick Perkins, after watching Chris Bosh score a game-changing bucket, calls out some anonymous Thunder players

yahoo.com

Dec 26, 2012

Late in Oklahoma City's loss to the Miami Heat on Tuesday, Thunder center Kendrick Perkins was caught out of position defensively in a move that would have made no sense even if his teammates had been on the same page with the defensive-minded center. W

Share Tweet

nytimes.com

Dec 26, 2012

The wisdom of playing on Christmas is still a matter of debate, but in the N.B.A. universe, programming reigns supreme.

Share Tweet

ESPN.com

Dec 25, 2012

Another Thunder loss to the Heat creates question marks that it seems OKC must address, writes Brian Windhorst.

Share Tweet

LeBron & The Heat Deliver Something Special For OKC; Kobe & Carmelo Stage A Crazy Duel

The past year was a good one for LeBron James and the Miami Heat. Championships. Rings. Respect. Fear. They hogged all the goodies. Christmas day was no different. Yesterday's NBA Finals rematch in Miami between the Heat and Thunder was a rugged, physic

Share Tweet

Clippers win 14th straight with rout of Nuggets

ESPN.com

Dec 26, 2012

Jamal Crawford led a dominant performance by the Los Angeles reserves with 22 points, and the Clippers defeated the Denver Nuggets 112-100 on Tuesday night, extending their franchise-record winning streak to 14 games.

Share Tweet

Chris Paul does what he does best as he sets up Blake Griffin for the perfect alley-oop pass in tonight's matchup between the Los Angeles Clippers and the Denver Nuggets.

Share Tweet

Eric Bledsoe Pump Fakes And Makes Unbelievable Basket

Clippers' Eric Bledsoe hits Nuggets' JaVale McGee with a pump fake, drawing the foul and making the basket as he falls to the floor.

Share Tweet

Here Is One Of Our Favorite NBA Photos So Far This Season

deadspin.com

Dec 26, 2012

Los Angeles Clippers forward Blake Griffin (32) is fouled by Denver Nuggets' Danilo Gallinari (8) of Italy during the first half of their NBA basketball game, Tuesday, Dec. 25, 2012, in Los Angeles. (AP Photo/Jason Redmond) More »

Share Tweet

Harden Leads Rockets To Fifth Straight Win

Dec 26

James Harden scores 17 of his 30 points in the fourth quarter of an 87-84 win over Timberwolves.

Blazers Make Easy Work Of Kings

Dec 26

DeMarcus Cousins held out of Kings' 109-91 loss to Blazers.

Warriors Cruise Past Jazz

Dec 26

Stephen Curry scores 23 points to lead Warriors to 94-83 win over Jazz.

Howard Ejected As Lakers Fall To Nuggets

Dec 26

Corey Brewer matched his career high with 27 points as the Nuggets overcame Kobe Bryant's 40 points.