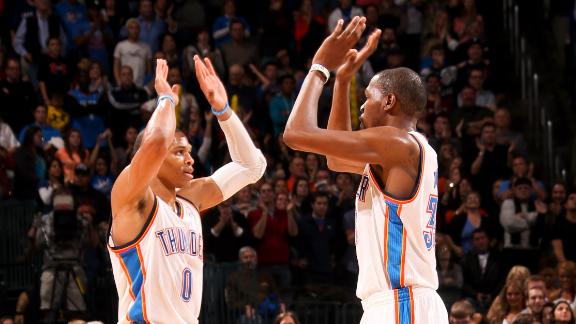 ESPN.com
Updated Dec 27, 2012
Kevin Durant scored 40 points while Russell Westbrook added eight of his 16 points in overtime to help the Oklahoma City Thunder beat Dallas 111-105 on Thursday night for their 11th straight win at home.
Share
Tweet
Kevin Durant Flaunts His Cross Over And Unstoppable Drive To the Hoop

Kevin Durant flaunts his cross over around Chris Kaman with an easy drive to the hoop for the dunk.

Share Tweet

Los Angeles Lakers center Dwight Howard was fined $35,000 by the NBA on Thursday for a flagrant foul against Denver's Kenneth Faried.

Share Tweet

CNNSI.com

Dec 27, 2012

CHARLOTTE, N.C. (AP) -- It would be easy for Bobcats coach Mike Dunlap to tear up the blueprint amid a 16-game losing streak and come up with an entirely new plan.

Share Tweet

Meet J.J. Hickson, The Double-Double Machine Driving Portland

Like a present-day Brian Grant, J.J. Hickson won't show up in many conversations about the NBA's most impressive big men. But just as Grant was an undersized forward who had 39 double-doubles between 1997 and 2000 for Portland, Hickson's penchant fo

Share Tweet

The Lakers Get Pushed To A Breaking Point; The Hawks Almost Get Embarrassed

A great recipe for disaster — at least if you're the Lakers — is playing in Denver on the second night of a back-to-back. Old legs. The high altitude. The penchant of the Nuggets to play fast and frenetic. It almost never works out for L.A., and las

Share Tweet

Durant Off The Block

Dec 27

Kevin Durant finishes the block with the one-handed slam over Chris Kaman.

Durant, Thunder Top Mavs In OT

Dec 27

Kevin Durant scores a game-high 40 points as Thunder rally past Mavericks for the 111-105 win in OT.

Mavs Fall To Thunder In OT

Dec 27

Kevin Durant scores a game-high 40 points as Thunder rally past Mavericks for the 111-105 win in OT.

Sports Columnists

Brooklyn Nets establish Phil Jackson as top coaching target, sources say

Dec 27

Undaunted by Phil Jackson's reported reluctance to coach their team, Brooklyn Nets officials have established Jackson as their top target in the wake of Avery Johnson's dismissal, according to NBA coaching sources.

Daily Dime: Fifteen straight for Clippers

Dec 27

The Clippers' 15th straight win was another blowout. The Clippers will need challenges to sharpen their playoff form, writes J.A. Adande.