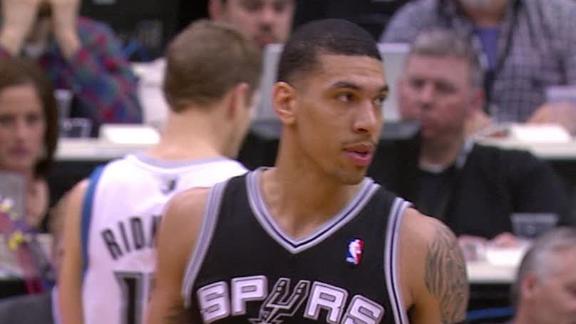 ESPN.com
Updated Feb 6, 2013
Danny Green hit eight 3-pointers and scored a career-high 28 points to help the San Antonio Spurs to their 11th straight win, 104-94 over the Minnesota Timberwolves on Wednesday night.
Share
Tweet
Milwaukee Bucks center Larry Sanders sat out Wednesday night's game against the Utah Jazz with a bruised back.

Share Tweet

deadspin.com yahoo.com ESPN.com grantland.com

Feb 6, 2013

Oh you know, just your standard fast-break, flip-the-ball-behind-your-head-from-below-your-hip-while-getting-fouled layup that hits every part of the rim before gently falling through the net. Nuggets forward Danilo Gallinari somehow managed to pull off…

Share Tweet

Barea 3-pointer

Feb 6

JJ Barea knocks down 3-pointer

Rubio Touch Pass

Feb 6

Ricky Rubio's touch pass finds Mickael Gelabale for the lay-in.

Thunder Win Second Straight

Feb 6

Thunder roll Warriors, 119-98.

Short-Handed Spurs Win 11th Straight

Feb 6

Danny Green sinks eight 3-pointers and 28 points, leading Spurs to 104-94 win over Timberwolves.