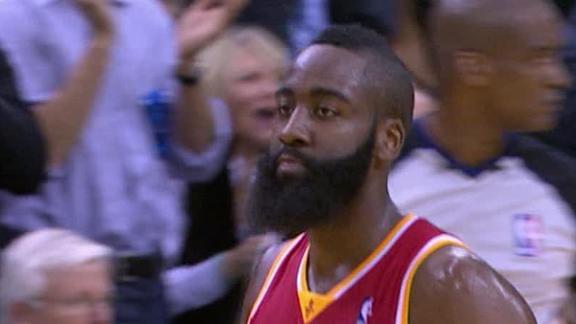 ESPN.com
Updated Feb 20, 2013
James Harden scored a career-high 46 points and Jeremy Lin added 29 as the Houston Rockets mounted a furious fourth-quarter comeback for a 122-119 victory over the Oklahoma City Thunder on Wednesday night.
Share
Tweet
Blazers' Hickson apologizes for Valentine's Day tweets

nba.com

Feb 20, 2013

Trail Blazers forward J.J. Hickson found some trouble on Twitter.

Share Tweet

The Utah Jazz are offering logo-burning waffle irons to season ticket holders

yahoo.com

Feb 20, 2013

In the last few years, it has become standard practice for NBA franchises to bestow gifts upon their season ticket holders. The era of one-to-one transactions of money for tickets is long gone. Teams now show their appreciation with keepsakes, doodads, …

Share Tweet

NBA Trade Rumors: Oklahoma City Thunder Discussing Kendrick Perkins Deal

dimemag.com

Feb 20, 2013

According to NBA trade rumors, the Phoenix Suns have been one of the most active teams heading into tomorrow's NBA trade deadline. There have been pieces floating around the internet that they've been discussing moving Jermaine O'Neal to the Knicks

Share Tweet

San Antonio Spurs guard Patty Mills breaks down his vast repertoire of towel waves (VIDEO)

yahoo.com

Feb 20, 2013

Patty Mills has averaged 11.3 minutes per game over the course of his four-year NBA career; he's had a lot of time to kill while serving as a backup guard on the Portland Trail Blazers and San Antonio Spurs. Luckily, he has used that time wisely, honing…

Share Tweet

ESPN.com

Feb 20, 2013

Danilo Gallinari and Ty Lawson each scored 26 points to help the Denver Nuggets snap a three-game losing streak by beating the Boston Celtics 97-90 Tuesday night.

Share Tweet

CNNSI.com

Feb 20, 2013

Struggling Warriors drop 6th straight, fall to Jazz

Share Tweet

Pekovic Powers Wolves Past 76ers

Feb 20

Nikola Pekovic's double-double helps Wolves top 76ers.

Harden Scores A Career-High 46 In Win Over Thunder

Feb 20

Despite a triple-double from Kevin Durant, James Harden scores 16 of his 46 points in the fourth quarter to lead Rockets to 122-119 win over Thunder.