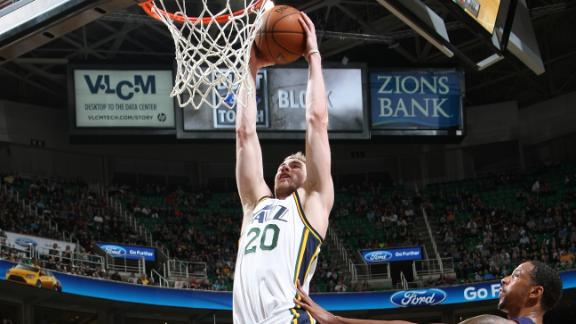 ESPN.com
Updated Feb 26, 2014
Phoenix point guard Goran Dragic sat out the Suns' game Wednesday night aginst the Utah Jazz because of a sprained right ankle.
Share
Tweet
nba.com

Feb 26, 2014

? Rockets center Dwight Howard briefly left Tuesday's game against the Kings after a knee-to-knee collision, but he's set to play tonight when the Clippers host Houston at Staples Center in a potential first-round playoff preview. Howard could find hims…

Share Tweet

Who Was Better: Tracy McGrady Or Clyde Drexler?

dimemag.com

Feb 26, 2014

Tracy McGrady apologists love to point to 2002-03, and in a way, they should. T-Mac was arguably the best player in the world, leading a rag-tag group of misfits to a near upset in the first round against Detroit while putting together one of the greate…

Share Tweet

Lillard's big shots in 4th turn back Nuggets

ESPN.com

Feb 26, 2014

Damian Lillard made up for the absence of fellow All-Star LaMarcus Aldridge by scoring 31 points in the Portland Trail Blazers' 100-95 win over the Denver Nuggets on Tuesday night.

Share Tweet

Irving, Cavs Keep Thunder Falling

Feb 26

Kyrie Irving scored 31 points and grabbed nine boards as the Cavs sent the Thunder to a third straight loss with a 114-104 victory.

Should The Thunder Be Concerned?

Feb 26

Antonio Davis talks about the Thunder's 0-3 record since Russell Westbrook's return.

NBA Assists Of The Week

Feb 26

Check out the top assists from the week in the NBA.

Green Tomahawk Jam

Feb 26

Gerald Green makes a big dunk on the fast break.