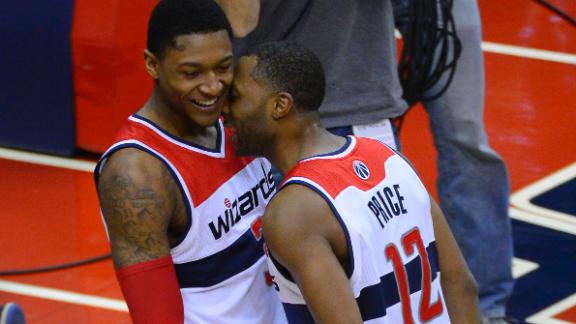 ESPN.com
Updated Jan 7, 2013
Bradley Beal made a jumper with 0.3 seconds left after using a pump fake to get open, and the short-handed Washington Wizards beat the Oklahoma City Thunder 101-99 Monday night.
Share
Tweet
nba.com

Jan 7, 2013

Nene and Jordan Crawford are out for the Washington Wizards against the Oklahoma City Thunder on Monday night.

Share Tweet

Minnesota Timberwolves forward Kevin Love met with doctors in the Twin Cities on Monday to evaluate his right hand, which is broken for the second time this season.

Share Tweet

Wolves make playoff pledge in new ticket campaign

nba.com

Jan 7, 2013

The Minnesota Timberwolves have been saying all season the playoffs are the goal this year. Now they're banking on it.

Share Tweet

The Numbers: Can Durant Join the 40-50-90 Club?

nytimes.com

Jan 7, 2013

Kevin Durant of the Thunder could become one of the few N.B.A. players to shoot 40 percent on 3-point attempts, 50 percent on field goal attempts and 90 percent from the free throw line.

Share Tweet

Why Lakers Fans Must Calm Down

dimemag.com

Jan 7, 2013

We're only a week into 2013 and already Lakers fans are bugging out. The team has lost all of its games in the new year, including last night's disappointment to the Denver Nuggets at home, which dropped them to 10-8 at the Staples Center (not countin

Share Tweet

Create-a-Caption: 'And now, we do the Dance of Joy'

yahoo.com

Jan 7, 2013

OK, maybe they're not perfect strangers, but Denver Nuggets forwards Andre Iguodala and Danilo Gallinari sure seemed pretty psyched after they each did their part - Iggy with some behind-the-back wizardry, Gallo with a game-sealing triple - to vanquis

Share Tweet

deadspin.com

Jan 7, 2013

Shit is getting bad for the Los Angeles Lakers. After losing to the Denver Nuggets at home last night, the Lakers' record now sits at 15-18. Furthermore, the locker room atmosphere appears to be getting more and more posionous each day. Dwight Howard is…

Share Tweet

yahoo.com

Jan 7, 2013

So, maybe Kobe Bryant wasn't kidding about that "I'll kick everybody's ass in this locker room" thing. Early Monday morning - following a 112-105 home loss to the Denver Nuggets, the Los Angeles Lakers' second loss to Denver in less than two weeks, thei

Share Tweet

JaVale McGee Goes Up And Over Two Of His Own Teammates For A Putback Dunk

deadspin.com

Jan 7, 2013

See, this is why we love JaVale McGee: he'll forego the smart play for the spectacular play. Late in the first half of yesterday's win over the Lakers, a missed Kosta Koufos layup bounced right in the middle of three Nuggets. Rather than yell "same…

Share Tweet

Daily Dime: Lakers-Nuggets

The Lakers' latest loss reveals a team not headed for a quick turnaround, J.A. Adande writes.

Share Tweet

Los Angeles Lakers center Dwight Howard aggravated the sprained rotator cuff in his right shoulder in Sunday night's loss to the Denver Nuggets and will undergo an MRI on the injury Monday morning, according to the team.

Share Tweet

Ty Lawson had 21 points and 10 assists, Danilo Gallinari scored 20 points and hit a big 3-pointer with 13.8 seconds left, and the Denver Nuggets beat the struggling Los Angeles Lakers 112-105 Sunday night for their fifth win in seven games.

Share Tweet

Wizards Stun Thunder

Jan 7

Bradley Beal's late jumper lifts Wizards past Thunder for just their fifth win.