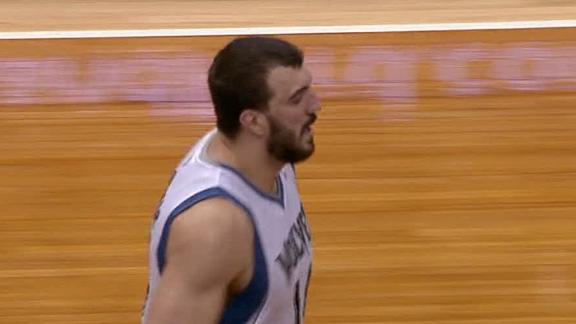 Nikola Pekovic had 25 points and a career-high 18 rebounds, Andrei Kirilenko added 21 points and the Minnesota Timberwolves beat the Atlanta Hawks, 108-103, on Tuesday night.
Share
Tweet
James Harden Does Whatever He Wants Against The Lakers; LeBron Loses A Battle With A Future Star

If you were busy trying to breakdown Mike D'Antoni's gameplan, which consisted of the coach determining subs by using "Eeny, meeny, miny, moe," you might've missed out on James Harden. He was only the best player on the floor by a mile in Housto

Share Tweet

Ricky Rubio's Behind the Back Pass Leads to Three-Pointer

One of the NBA's finest passers, Ricky Rubio, had an amazing behind the back dime to Derrick Williams who knocked down the three-point jumper in tonight's matchup between the Minnesota Timberwolves and Atlanta Hawks.

Share Tweet

Adelman misses game for personal reasons

ESPN.com

Jan 8, 2013

Minnesota Timberwolves coach Rick Adelman was not at the arena for Tuesday night's game against Atlanta due to personal reasons.

Share Tweet

CNNSI.com

Jan 8, 2013

WASHINGTON (AP) - John Wall could be making his season debut Saturday for the Washington Wizards after months of rehabbing his injured left knee.

Share Tweet

While things are getting dicey in Los Angeles because the Lakers will rely on D-League call-ups and 10-day contracts to get them through the next few weeks, it's the opposite in Utah. It has been all season. Before the year began, I noted that Utah's

Share Tweet

Utah Jazz forward Marvin Williams will miss the next three games with inflammation in his right knee.

Share Tweet

The Court Grip Difference Maker of the Week: Bradley Beal Sticks the Game-Winner Against OKC

Each week Court Grip will bring you a prime basketball highlight made possible by having an edge — in skills, performance and technology. This week features NBA rookie Bradley Beal stopping on a dime and hitting two OKC defenders with a pump-fake, step-

Share Tweet

yahoo.com

Jan 8, 2013

Heading into Monday night, only one team had notched wins over both the reigning NBA champion Miami Heat and defending Western Conference champion Oklahoma City Thunder this season - the bruising Memphis Grizzlies, owners of the NBA's fifth-best record.

Share Tweet

Paul Pierce Owns New York City; Kevin Durant One-Up'd By A Rookie

On a night where we all tried to watch a BCS championship that got so bad — think Spike running over the Little Giants — that Brent Musburger needed a hall pass by the end of the first quarter because he was getting distracted by A.J. McCarron's gir

Share Tweet

ESPN.com

Jan 8, 2013

Gordon Hayward scored a season-high 27 points, including four 3-pointers, and the Utah Jazz defeated the Dallas Mavericks 100-94 on Monday night.

Share Tweet

Pekovic, Wolves Hold Off Hawks

Jan 8

Nikola Pekovic's double-double, 25 points and 18 boards, leads Timberwolves to 108-103 win over Hawks.