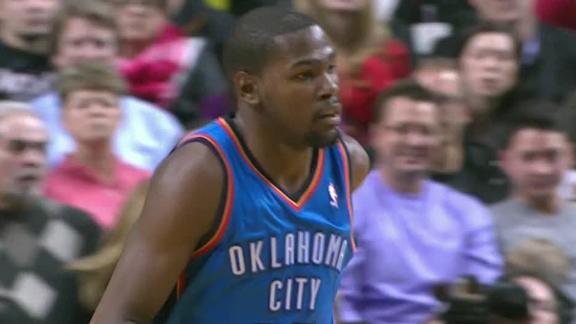 ESPN.com

Jan 13, 2013

Danilo Gallinari scored 21 points, Ty Lawson had 20, and the Denver Nuggets rallied to beat the Golden State Warriors 116-105 on Sunday night for their season-high fifth straight win.

Upvote Share Tweet

ESPN.com

Jan 13, 2013

Tony Parker scored 20 points to lead the San Antonio in a 106-88 victory over the Minnesota Timberwolves on Sunday night, extending the Spurs' home winning streak to 12 games.

Upvote Share Tweet

deadspin.com

Jan 13, 2013

Two seasons ago, when Carmelo Anthony was still playing for Denver, Ball Don't Lie's Kelly Dwyer pulled some averages from a 12-game stretch of the Nuggets' season: More »

Upvote Share Tweet

Nuggets Run Past Warriors For Fifth Straight Win

Jan 13

Wilson Chandler returns from injury to contribute 14 points off the bench in Nuggets' 116-105 win over Warriors.